Stratigraphy and biostratigraphy (charophytes) of the marine-terrestrial transition in the Upper Eocene of the NE Ebro Basin (Catalonia, Spain)
Keywords:
Charophyta, Biostratigraphy, Ebro Basin, Eocene, Oligocene
Abstract
The onset of endorheic sedimentation in the Ebro Basin is a prominent feature of the basin's evolution and has recently been characterized as a rapid event occurring in the Early Priabonian. In the north-eastern part of the basin this event coincides with the deposition of the Artés Formation (Fm.), mainly built up by red beds of alluvial origin. The marine-continental boundary has been poorly studied up to now in the so-called Lluçanès area, and what was previously thought to be the base of the Artés Fm. is actually a transitional unit, which we define as the Sant Boi Formation, which covers the underlying marine Milany Depositional Sequence and passes laterally to the Terminal Complex, extending over 15km along the eastern margin of the Ebro Basin. The Sant Boi Fm. is formed by up to 15-20m of alternating siltstones and lutite, grading upwards to brackish and lacustrine marls and lignite, and represents deposition in a brackish to freshwater floodplain. It is characterized biostratigraphically by the fossil charophyte assemblage Harrisichara lineata, Harrisichara vasiformis-tuberculata and Nodosochara jorbae, from the middle part of the Priabonian. In contrast, the overlying red beds of the Artés Fm. are characterized by assemblages containing Harrisichara tuberculata, Nodosochara jorbae and Lychnothamnus longus from the Late Priabonian. These results are largely consistent with recent magnetostratigraphic studies performed south of the studied area, and have enabled us to refine the stratigraphy of the marine-continental transition in the north-eastern Ebro Basin.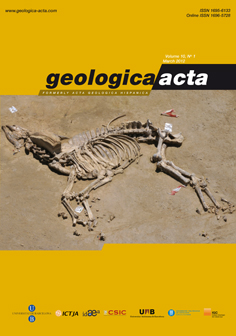 Downloads
License
Copyright
The commercial rights of the printed and online versions of Geologica Acta are property of the UB, ICTJA, IDAEA and UAB, and Geologica Acta must be cited for any partial or full reproduction.
The opinions and conclusions stated in each article are the exclusive responsability of the authors and do not necessarily coincide with those of the above mentioned institutions UB, ICTJA, IDAEA and UAB.
Author Rights
Authors retain the copyright on their papers (accepted manuscript, uncorrected proof and published paper) and are authorized to post them on their own Web page or their institutional repositories. In all cases, the complete citation and a link to the Digital Object Identifier (DOI) of the article must be included.
The authors can use excerpts or reproduce illustrations of their papers in other works without prior permission of Geologica Acta provided the source of the paper including the complete citation is fully acknowledged.
Papers are distributed under the Attribution-Share Alike Creative Commons License. This license allows others to alter, remix or build upon a paper and the resulting work may be distributed under the same or similar license to this one.