Petrogenesis of fertile mantle peridotites from the Monte del Estado massif (Southwest Puerto Rico): a preserved section of Proto-Caribbean lithospheric mantle?
Keywords:
Abyssal peridotite, Fractional melting, Ophiolite, Proto-Caribbean plate, Puerto Rico
Abstract
The Monte del Estado massif is the largest and northernmost serpentinized peridotite belt in southwest Puerto Rico. It is mainly composed of spinel lherzolite and minor harzburgite with variable clinopyroxene modal abundances. Mineral and whole rock major and trace element compositions of peridotites coincide with those of fertile abyssal mantle rocks from mid ocean ridges. Peridotites lost 2-14 wt% of relative MgO and variable amounts of CaO by serpentinization and seafloor weathering. HREE contents in whole rock indicate that the Monte del Estado peridotites are residues after low to moderate degrees (2-15%) of fractional partial melting in the spinel stability field. However, very low LREE/HREE and MREE/HREE in clinopyroxene cannot be explained by melting models of a spinel lherzolite source and support that the Monte del Estado peridotites experienced initial low fractional melting degrees (~ 4%) in the garnet stability field. The relative enrichment of LREE in whole rock is not due to alteration processes but probably reflects the capture of percolating fluid/melt fractions or the crystallization of sub-percent amounts of hydrous minerals (e.g., amphibole, phlogopite) along grain boundaries or as microinclusions in minerals. We propose that the Monte del Estado peridotite belt represents a section of ancient Proto-Caribbean (Atlantic) lithospheric mantle originated by seafloor spreading between North and South America in the Late Jurassic- Early Cretaceous. This portion of oceanic lithospheric mantle was subsequently trapped in the forearc region of the Greater Antilles paleo-island arc generated by the northward subduction of the Caribbean plate beneath the Proto-Caribbean ocean. Finally, the Monte del Estado peridotites belt was emplaced in the Early Cretaceous probably as result of the change in subduction polarity of the Greater Antilles paleo-island arc without having been significantly modified by subduction processes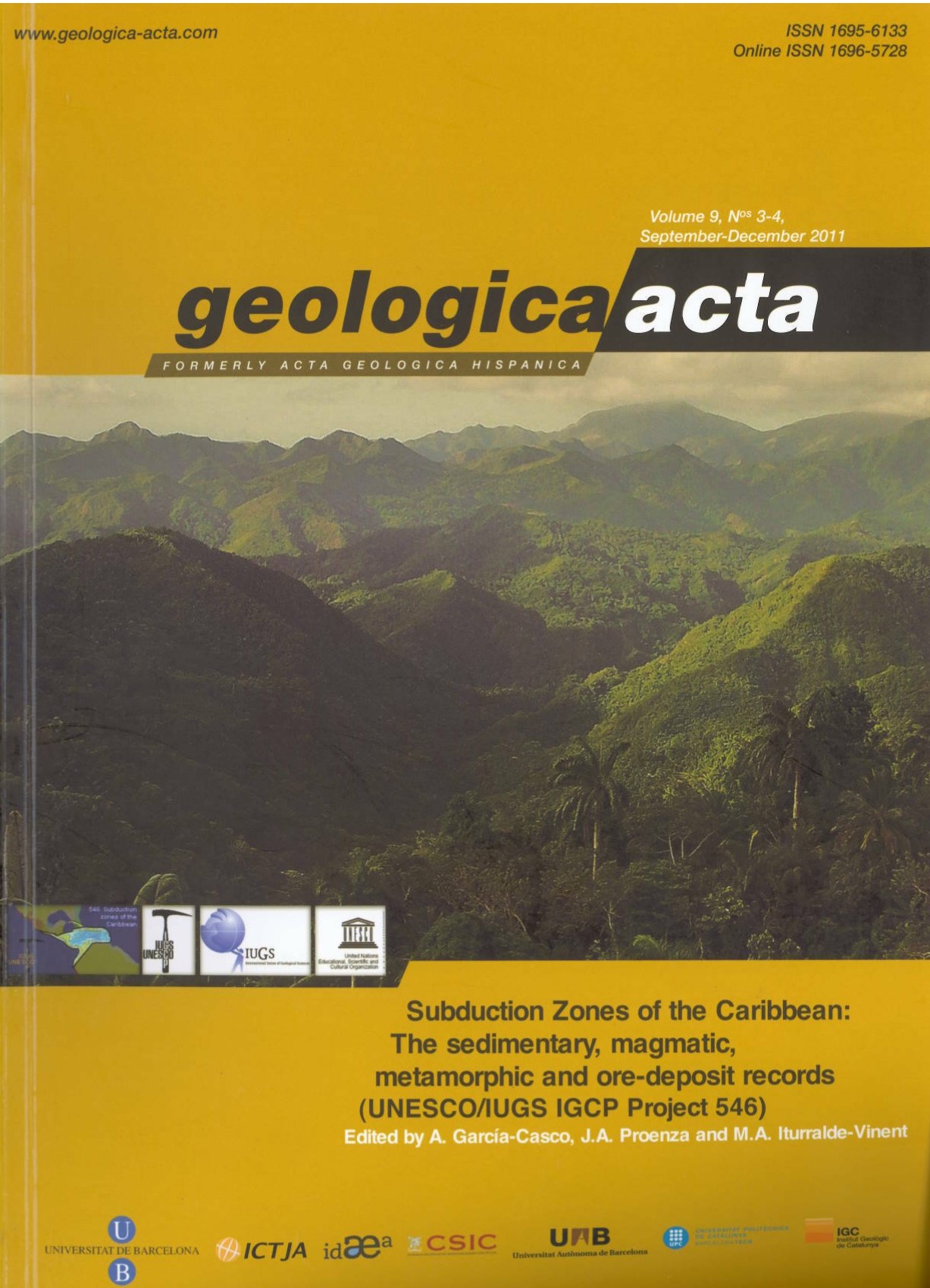 Downloads
License
Copyright
The commercial rights of the printed and online versions of Geologica Acta are property of the UB, ICTJA, IDAEA and UAB, and Geologica Acta must be cited for any partial or full reproduction.
The opinions and conclusions stated in each article are the exclusive responsability of the authors and do not necessarily coincide with those of the above mentioned institutions UB, ICTJA, IDAEA and UAB.
Author Rights
Authors retain the copyright on their papers (accepted manuscript, uncorrected proof and published paper) and are authorized to post them on their own Web page or their institutional repositories. In all cases, the complete citation and a link to the Digital Object Identifier (DOI) of the article must be included.
The authors can use excerpts or reproduce illustrations of their papers in other works without prior permission of Geologica Acta provided the source of the paper including the complete citation is fully acknowledged.
Papers are distributed under the Attribution-Share Alike Creative Commons License. This license allows others to alter, remix or build upon a paper and the resulting work may be distributed under the same or similar license to this one.