Organic and mineral matter changes due to oil generation, saturation and expulsion processes based on artificial maturation experiments
Keywords:
Hydrous Pyrolysis, Oil Generation, Primary Migration, Suppressed-vitrinite, Organic Petrography, Oil Expulsion
Abstract
Hydrous pyrolysis experiments were conducted on immature organic-rich rock with type-I kerogen to evaluate petroleum generation, saturation and expulsion processes. The experiments were carried out under isothermal conditions at ten different temperatures (280° through 360°C) for nine different time spans between 18 and 144h. Rock samples recovered from the experiments were analyzed for total organic carbon (TOC–weight%), Rock-Eval pyrolysis, vitrinite reflectance (Ro%), spectral fluorescence and visual characterization of organic matter under the microscopy. TOC, S2 and HI tend to decrease with increasing temperature and duration of the experiments as expected. The Ro% values reach up to 1.14% in the most severe experiment (i.e. 360°C/96h). The Ro% is believed to be suppressed due to hydrogen incorporation from bitumen. The bitumen production was observed with the increase of transformation index (TI) and two types of bitumen were differentiated by fluorescence color. The bitumen with yellow fluorescence was mainly composed of saturate and aromatic hydrocarbons that were probably generated earlier than the bitumen with brown fluorescence which is rich in NSO compounds. The greatest bitumen saturation occurs at TI around of 41% to 45%, when the S1 reaches its highest values. The decrease of bitumen saturation and consequent oil expulsion is marked by a reduction in S1 values and fluorescence color. This phenomenon occurs simultaneously with the development of fractures and voids in the mineral matrix which reduces the oil retention capability and facilitates the expulsion process. These observations enhanced the understanding of oil generation and saturation processes, as well as primary migration, expulsion and type of generated bitumen.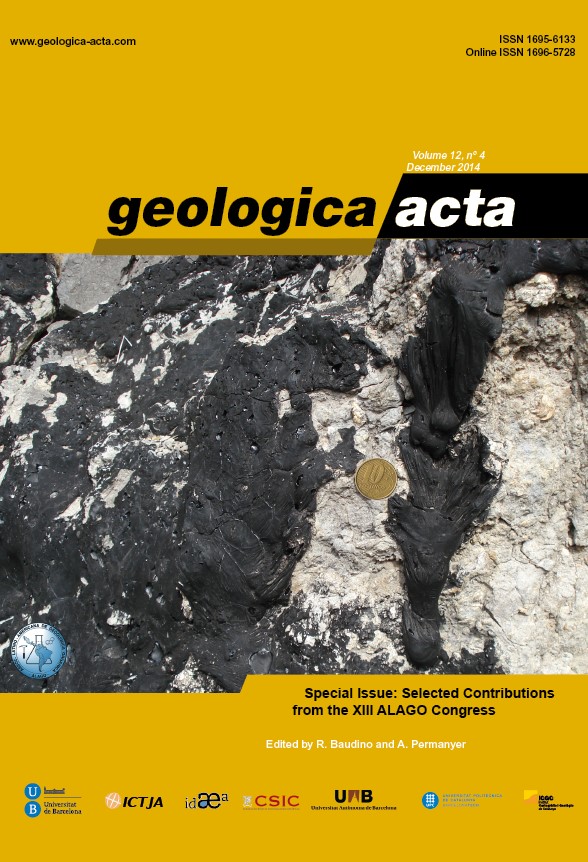 Downloads
License
Copyright
The commercial rights of the printed and online versions of Geologica Acta are property of the UB, ICTJA, IDAEA and UAB, and Geologica Acta must be cited for any partial or full reproduction.
The opinions and conclusions stated in each article are the exclusive responsability of the authors and do not necessarily coincide with those of the above mentioned institutions UB, ICTJA, IDAEA and UAB.
Author Rights
Authors retain the copyright on their papers (accepted manuscript, uncorrected proof and published paper) and are authorized to post them on their own Web page or their institutional repositories. In all cases, the complete citation and a link to the Digital Object Identifier (DOI) of the article must be included.
The authors can use excerpts or reproduce illustrations of their papers in other works without prior permission of Geologica Acta provided the source of the paper including the complete citation is fully acknowledged.
Papers are distributed under the Attribution-Share Alike Creative Commons License. This license allows others to alter, remix or build upon a paper and the resulting work may be distributed under the same or similar license to this one.