Magnetic susceptibility of Variscan granite-types of the Spanish Central System and the redox state of magma
Keywords:
Magnetic susceptibility, Granite type, Biotite chemistry, Oxygen fugacity.
Abstract
Magnetic susceptibility (MS) has been measured in Variscan granites from central Spain. They yield values in the order of 15 to 180μSI units for S- and I-type granites, indicating that both types belong to the ilmenite series. Only samples from magnetite-bearing leucogranites from the I-type La Pedriza massif show high MS values, in the order of 500-1400μSI, reflecting the presence of this ferromagnetic mineral. Mineral chemistry of magmatic Fe-rich minerals (mainly biotite) suggests similar oxidation values for both granite types. MS values change in highly fractionated granites accordingly either with the presence of rare new Fe-oxide phases (some I-type leucogranites) or with the marked modal amount decrease of Fe-rich minerals (I- and S-type leucogranites). The redox state in highly fractionated granite melts is mostly controlled by magmatic processes that modify redox conditions inherited from the source region. Thus, the occurrence of magnetite or ilmenite in granites is primarily controlled by the oxidation state of the source material but also by the differentiation degree of the granite melt. The presence of magnetite in some Variscan I-type leucogranites might be a consequence of crystal fractionation processes in a more limited mafic mineral assemblage than in S-type granite melts.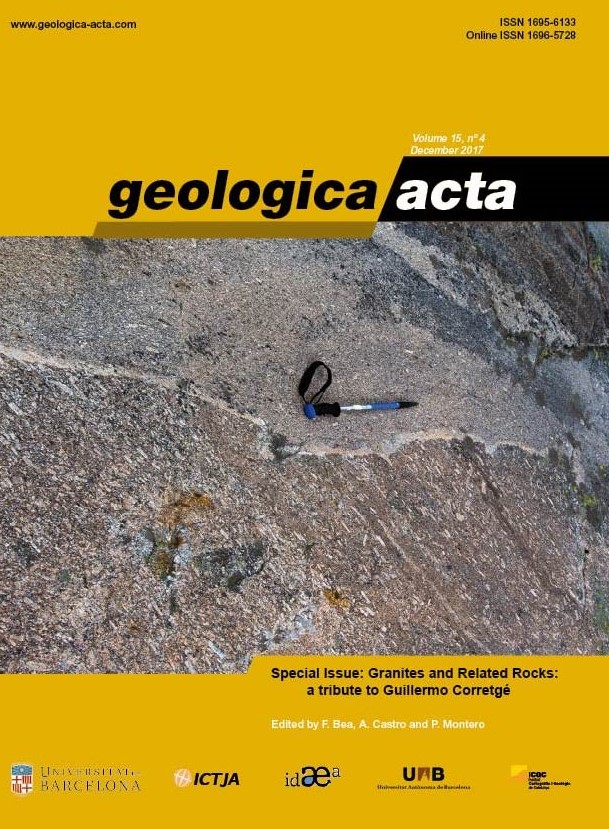 Downloads
Section
Granites and Related Rocks. A tribute to Guillermo Corretgé
License
Copyright
The commercial rights of the printed and online versions of Geologica Acta are property of the UB, ICTJA, IDAEA and UAB, and Geologica Acta must be cited for any partial or full reproduction.
The opinions and conclusions stated in each article are the exclusive responsability of the authors and do not necessarily coincide with those of the above mentioned institutions UB, ICTJA, IDAEA and UAB.
Author Rights
Authors retain the copyright on their papers (accepted manuscript, uncorrected proof and published paper) and are authorized to post them on their own Web page or their institutional repositories. In all cases, the complete citation and a link to the Digital Object Identifier (DOI) of the article must be included.
The authors can use excerpts or reproduce illustrations of their papers in other works without prior permission of Geologica Acta provided the source of the paper including the complete citation is fully acknowledged.
Papers are distributed under the Attribution-Share Alike Creative Commons License. This license allows others to alter, remix or build upon a paper and the resulting work may be distributed under the same or similar license to this one.