Hybridization between I-type and S-type granites in the ordovician famatinian magmatic arc, Tafí del Valle, Tucumán, NW Argentina
Keywords:
Calc-alkaline magmatism, Lower Paleozoic, Sierras Pampeanas, Tafí del Valle, La Ovejería pluton
Abstract
In the Tafí del Valle region, in northwestern Argentina, several intrusive bodies of lower Paleozoic age were emplaced in the metasedimentary Puncoviscana Formation, belonging to the Sierras Pampeanas. Four intrusive bodies outcrop in the study area: La Ovejería, El Infiernillo, Loma Pelada and Los Cuartos. La Ovejería and El Infiernillo intrusive bodies represent the I-type magmatism according to their major element contents and show cotectic evolutions similar to those described by Famatinian I-type batholiths. These moderately peraluminous adakitic trondhjemites have characteristic high Sr/Y ratios and low Fe2O3+MgO+MnO+TiO2 contents. They are related to high-pressure conditions at the source, where dehydration melting of basaltic rocks may be involved and garnet is retained in the residue leading to generation of HREE depleted melts. The Loma Pelada granites show characteristics of S-type magmatism (low CaO and MgO, and high SiO2 and K2O contents) typical of granites segregated in the last stages of magmatic differentiation, or anatectic granites. They show an increasing peraluminosity due to garnet entrainment and they are related to the anatectic melts generated in the Puncoviscana Formation. Both the Loma Pelada and Los Cuartos granitoids include samples with intermediate geochemical characteristics that range between those of the El Infiernillo and La Ovejería and the regional metasedimentary rocks. These characteristics could be explained by assimilation processes involving the I-type intrusive magmas and the metasedimentary host rocks or by hybridization processes between trondhjemitic I-type magmas as La Ovejería and El Infiernillo and anatectic S-type melts.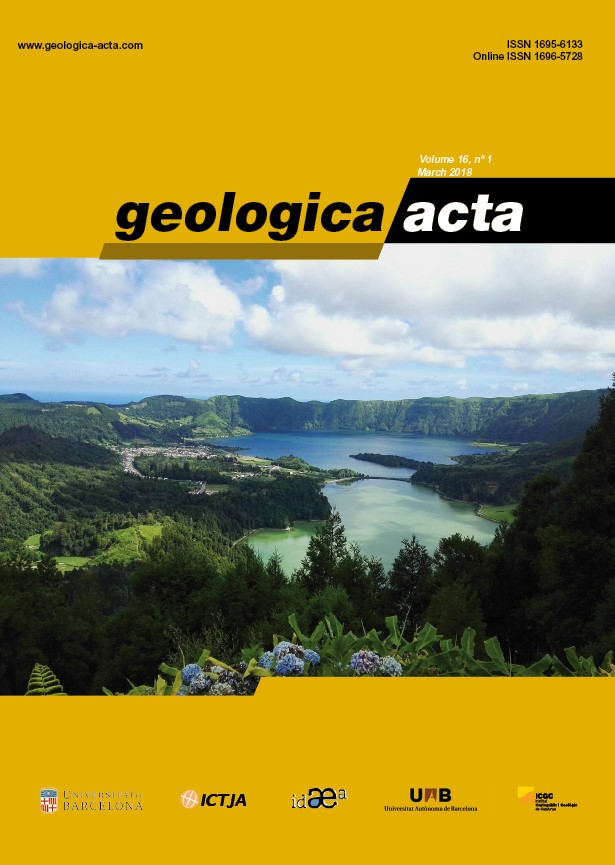 Downloads
License
Copyright
The commercial rights of the printed and online versions of Geologica Acta are property of the UB, ICTJA, IDAEA and UAB, and Geologica Acta must be cited for any partial or full reproduction.
The opinions and conclusions stated in each article are the exclusive responsability of the authors and do not necessarily coincide with those of the above mentioned institutions UB, ICTJA, IDAEA and UAB.
Author Rights
Authors retain the copyright on their papers (accepted manuscript, uncorrected proof and published paper) and are authorized to post them on their own Web page or their institutional repositories. In all cases, the complete citation and a link to the Digital Object Identifier (DOI) of the article must be included.
The authors can use excerpts or reproduce illustrations of their papers in other works without prior permission of Geologica Acta provided the source of the paper including the complete citation is fully acknowledged.
Papers are distributed under the Attribution-Share Alike Creative Commons License. This license allows others to alter, remix or build upon a paper and the resulting work may be distributed under the same or similar license to this one.