The Aragonian type area revisited; comments on paleontology and stratigraphy
Keywords:
Miocene, Rodents, Cricetidae, Stratigraphy, Paleomagnetism
Abstract
In a recent study of van der Meulen and coauthors, the fossil rodents Fahlbuschia, Pseudofahlbuschia and Renzimys from the Aragonian type area (Calatayud Basin, Spain) were synonimized with Democricetodon. On the basis of the relative chronology provided by Daams and coauthors in an earlier study, these authors construed two evolutionary lineages, distinguished by size. One of these lineages contains Fahlbuschia koenigswaldi (Freudenthal, 1963) and the other one Democricetodon moralesi van der Meulen et al. (2004) but, in view of their great similarity, we consider D. moralesi to be a synonym of F. koenigswaldi.
 The relative stratigraphic position of some fossil mammal localities is difficult to establish in the Aragonian type area because it is affected by folds and faults. Early studies of Daams and Freudenthal subdivided the local zone D into D1, D2, D3 and gave a scheme of the stratigraphy in which the fossiliferous locality Valdemoros 1A is considered to be older than Valdemoros 3B. But Daams and coauthors came to the opposite interpretation in a later study, and divided zone D in Da, Db, Dc, Dd. But, new field data presented here enforce the original interpretation in which Valdemoros 1A is older than Valdemoros 3B. This leads to the conclusion that the division of local zone D into Da to Dd has to be discarded, and substituted by the formerly proposed zonation D1-D3.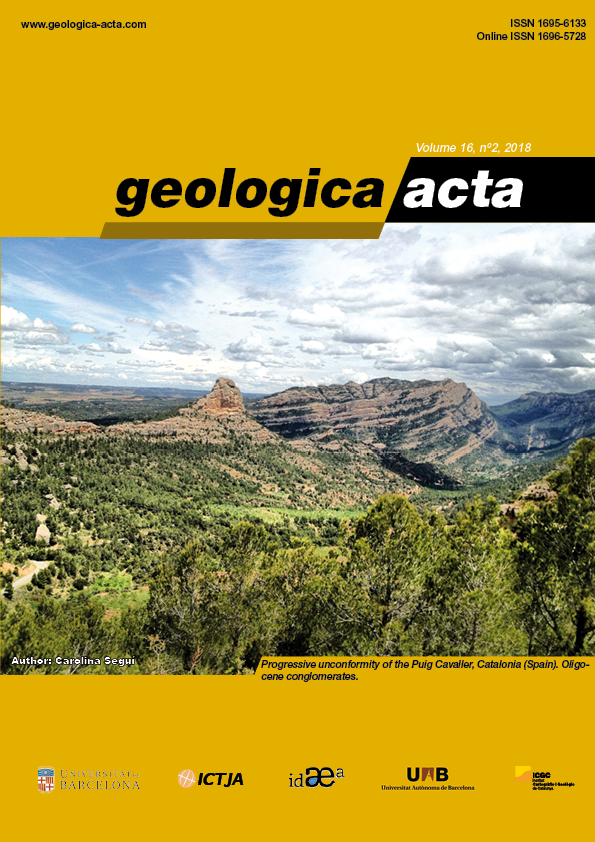 Downloads
License
Copyright (c) 2018 Geologica Acta
This work is licensed under a Creative Commons Attribution-ShareAlike 4.0 International License.
Copyright
Geologica Acta is the property of the UB, GEO3BCN, IDAEA and UAB. Geologica Acta must be cited for any partial or full reproduction. Papers are distributed under the Attribution-Share Alike Creative Commons License. This license allows anyone to reproduce and disseminate the content of the journal and even make derivative works crediting authorship and provenance and distributing possible derivative works under the same or an equivalent license.
Author Rights
Authors retain the copyright on their papers and are authorized to post them on their own web pages or institutional repositories. The copyright was retained by the journal from the year 2003 until 2009. In all cases, the complete citation and a link to the Digital Object Identifier (DOI) of the article must be included. 
The authors can use excerpts or reproduce illustrations of their papers in other works without prior permission from Geologica Acta provided the source of the paper including the complete citation is fully acknowledged.