Structure of an intraplate fold-and-thrust belt: The Iberian Chain. A synthesis
Keywords:
Thrust belt, Intraplate, Crustal thickness, Iberia.
Abstract
The Iberian Chain is a complex intraplate fold-and-thrust belt resulting from the convergence between the Eurasian, Iberian and African plates during the late Eocene to the Miocene. The main trend of its contractional
structures is NW-SE, but E-W, NE-SW and N-S-trending structures are also present. The boundaries of the chain with its surrounding foreland basins are always thrusts. The North-Iberian Thrust separates the
chain from the Ebro Basin to the North, while the Serranía de Cuenca Thrust makes the SE boundary of the chain, separating it from the Tajo Basin and La Mancha foreland areas. Between these thrusts, the
contractional structure is basement-involved, while South of the Serranía de Cuenca Thrust only Mesozoic and Cenozoic rocks are involved in the thrust-system, detached in the evaporitic Triassic materials. Two
parts can be differentiated considering the major structure of the chain. The western and central areas hold two major anticlinoriums separated by the Almazán Synclinorium. East of the Teruel Depression, E-Wstriking
N-verging thrusts in the North, and NW-SE-striking S-verging thrusts in the center and South are the dominant structures.
The crust thickened during the Cenozoic contraction generating a mean crustal thickening of about 5km. The horizontal shortening obtained from cross-sections is 32km, and from a density-gravity section of 57.5km.
These two values may be considered end values.
The relief of the Iberian Chain has a strong areal coincidence with the contractional structures and the thickened crust, indicating that they are genetically related.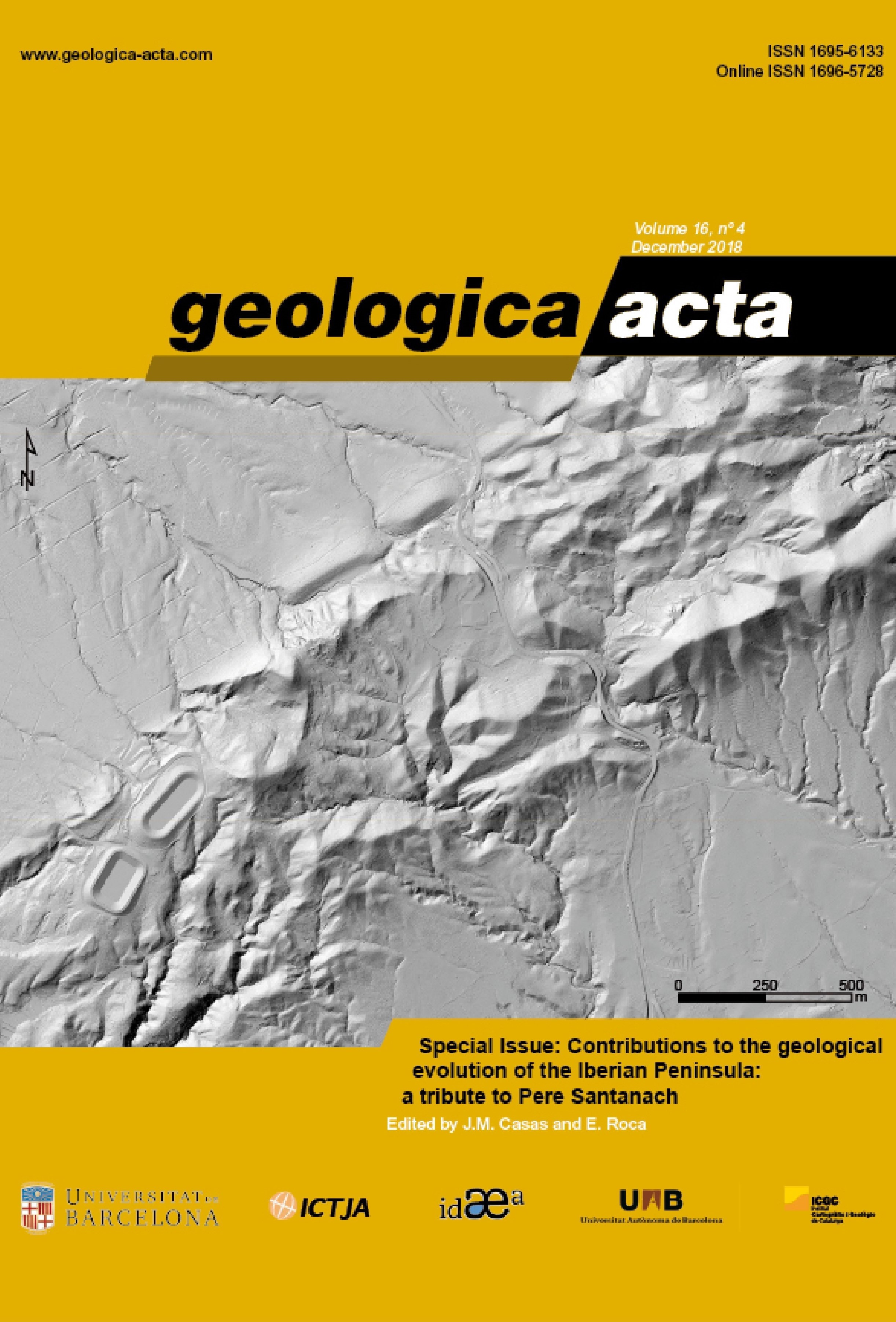 Downloads
Section
A tribute to Pere Santanach
License
Copyright
Geologica Acta is the property of the UB, GEO3BCN, IDAEA and UAB. Geologica Acta must be cited for any partial or full reproduction. Papers are distributed under the Attribution-Share Alike Creative Commons License. This license allows anyone to reproduce and disseminate the content of the journal and even make derivative works crediting authorship and provenance and distributing possible derivative works under the same license or an equivalent license.
Author Rights
Authors retain the copyright on their papers and are authorized to post them on their own web pages or institutional repositories. In all cases, the complete citation and a link to the Digital Object Identifier (DOI) of the article must be included.
The authors can use excerpts or reproduce illustrations of their papers in other works without prior permission from Geologica Acta provided the source of the paper including the complete citation is fully acknowledged.