MORB-derived amphibolites in the Paleozoic basement of the Aluminé Igneous-Metamorphic Complex, Neuquén, Argentina: Decoding its genesis, P-T evolution and pre-Andean regional correlations
Keywords:
MORB, Amphibolites, Thermobarometry, P-T path, Late Paleozoic, Triassic, Accretionary prism
Abstract
Amphibolites included in the metapelitic sequence and as xenoliths in intrusive magmatic rocks outcropping in the southern sector of the Aluminé Igneous-Metamorphic Complex (AIMC), Neuquén, Argentina, are studied in detail in order to determine their origin and their subsequent metamorphic evolution. Field evidence and wholerock geochemistry indicate that these rocks were derived from a Mid-Ocean Ridge Basalt (MORB)-type protolith, and were accreted as tectonic slices into the metapelitic sequence that mainly formed the basal accretionary prism associated with a pre-Andean SW-NE subduction setting. Phase relationships, geochemistry of mineral assemblages and geothermobarometry indicate the presence of at least two metamorphic events (M1 1.9−3.9kbar, 677−745ºC and M2 6.4kbar, 723ºC) framed in a counterclockwise P-T path, comparable to those previously determined for the metapelitic country-rocks and metatroctolites outcropping in the same sector of the AIMC. Based on regional correlations and the agreement in the petrological, geochemical, geochronological and structural characteristics, we suggest that the MORB-derived Ñorquinco amphibolites and neighboring aluminous metasedimentary basement rocks of the AIMC belong to the eastern prolongation of the Western Series of the Coastal Accretionary Complex of Central Chile in west-central Argentina territory.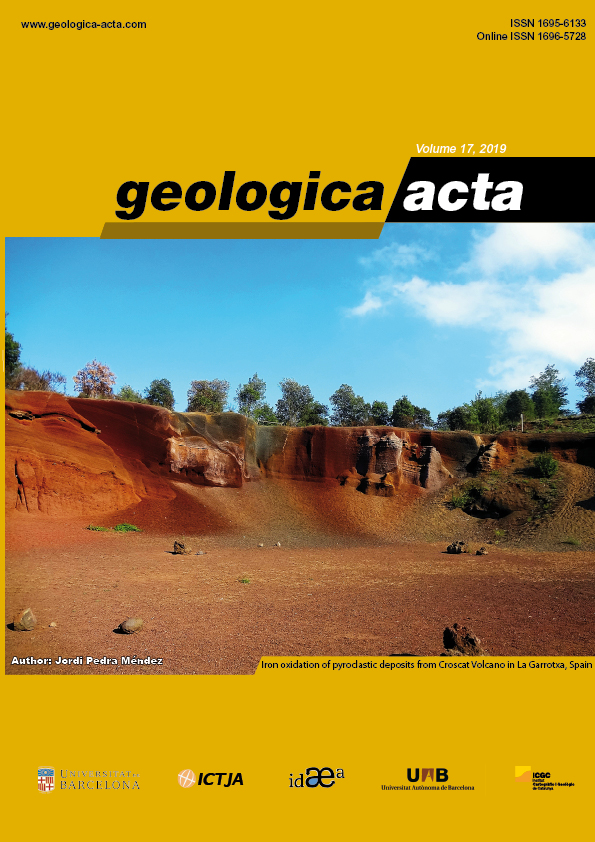 Downloads
License
Copyright
The commercial rights of the printed and online versions of Geologica Acta are property of the UB, ICTJA, IDAEA and UAB, and Geologica Acta must be cited for any partial or full reproduction.
The opinions and conclusions stated in each article are the exclusive responsability of the authors and do not necessarily coincide with those of the above mentioned institutions UB, ICTJA, IDAEA and UAB.
Author Rights
Authors retain the copyright on their papers (accepted manuscript, uncorrected proof and published paper) and are authorized to post them on their own Web page or their institutional repositories. In all cases, the complete citation and a link to the Digital Object Identifier (DOI) of the article must be included.
The authors can use excerpts or reproduce illustrations of their papers in other works without prior permission of Geologica Acta provided the source of the paper including the complete citation is fully acknowledged.
Papers are distributed under the Attribution-Share Alike Creative Commons License. This license allows others to alter, remix or build upon a paper and the resulting work may be distributed under the same or similar license to this one.