"The limits of industrialization in Chile, 1850-1880"
Abstract
This article examines the first stages of industrialization in Chile by the middle of the nineteenth century, in the context of the expansion experienced by the international economy between 1850 and 1873. It also examines the factors that stifled that process, stressing the importance of those pertaining to the traditional or colonial economic and social order.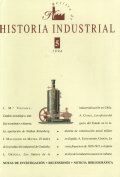 Downloads
License
El/la autor/a cede los derechos al/la editor/a. Creative Commons
El/la autor/a que publica en esta revista está de acuerdo con los términos siguientes:
El/la autor/a cede en exclusiva todos los derechos de propiedad intelectual al/la editor/a para todo el mundo y toda la duración de los derechos de propiedad intelectual vigentes aplicables.
El/la editor/a difundirá los textos con la licencia de reconocimiento de Creative Commons que permite compartir la obra con terceros, siempre que éstos reconozcan su autoría, su publicación inicial en esta revista y las condiciones de la licencia.