The Origins of SEAT: Autarky and INI's Intervention
Abstract
The Spanish Society of Touring Cars (SEAT) was for a long time considered the prototype of the paradigmatic company of Franco's regime. Franco's economic authorities presented the government's interventionism in car manufacture as the only possible alternative for the production of cars in Spain. The inability of private enterprises was the main argument used to entrust this industry to the National Institute of Industry (INI). This paper reconsiders the official account of the origins of SEAT. The INI used its power to block private initiative and assume as its own the creation of the first national mass production car company. Within the car industry the INI did not protect national companies (against what had been agreed in its constitutive act), but on the contrary defended its own projects.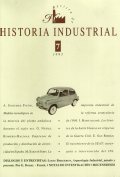 Downloads
License
El/la autor/a cede los derechos al/la editor/a. Creative Commons
El/la autor/a que publica en esta revista está de acuerdo con los términos siguientes:
El/la autor/a cede en exclusiva todos los derechos de propiedad intelectual al/la editor/a para todo el mundo y toda la duración de los derechos de propiedad intelectual vigentes aplicables.
El/la editor/a difundirá los textos con la licencia de reconocimiento de Creative Commons que permite compartir la obra con terceros, siempre que éstos reconozcan su autoría, su publicación inicial en esta revista y las condiciones de la licencia.