Paris and French electrification
Abstract
Electricity consumption in the Paris area developed in three chronological stages clarely associated with particular uses. The first involved streetlights. Electricity seemed to be the solution for the evils of industrial concentration and the fear of insecurity. But, the first boom in electrical energy use took place in a very competitive context and slowed down by dissuasive prices. Economic growth at the beginning of the 20th century and World War I gave a decisive boost to widespread use of the electric motor. Practical and economical to use, it paved the way for the rationalization of workshops. Lastly, intense propaganda during the interwar period, based on the model of American life, revolved around electrical applications in the home. Though its conquests were not complete by 1939, electricity had nevertheless succeeded in keeping its progress-related image and the sense of marvel that had accompanied its birth.
Downloads
Download data is not yet available.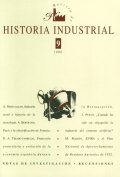 Downloads
License
El/la autor/a cede los derechos al/la editor/a. Creative Commons
El/la autor/a que publica en esta revista está de acuerdo con los términos siguientes:
El/la autor/a cede en exclusiva todos los derechos de propiedad intelectual al/la editor/a para todo el mundo y toda la duración de los derechos de propiedad intelectual vigentes aplicables.
El/la editor/a difundirá los textos con la licencia de reconocimiento de Creative Commons que permite compartir la obra con terceros, siempre que éstos reconozcan su autoría, su publicación inicial en esta revista y las condiciones de la licencia.