ENIRA and the 1952 Plan for Agricultural Waste Exploitation. The history of an industrial failure
Abstract
This paper studies the main features of the conduct of the "Instituto Nacional de Industria" (INI) in one of its oldest and most important firms (ENIRA, S.A.). This firm was created in the context of two of the most ambitious projects of the first stage of the Francoism: the Plan for Agricultura1 Waste Exploitaction ("Plan de Aprovechamiento de Residuos Agrícolas") and the Plan Jaén. Both plans were introduced in 1952. Although the INI compromised its prestige and entrepreneurial capacity in this firm for more than 20 years, the large industrial factory built by the firm in Linares with a cost of almost 1 billion pesetas, never went into production. This is the history of the circumstances and causes that made this industrial failure possible.
Downloads
Download data is not yet available.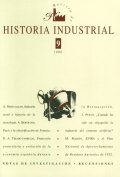 Downloads
License
El/la autor/a cede los derechos al/la editor/a. Creative Commons
El/la autor/a que publica en esta revista está de acuerdo con los términos siguientes:
El/la autor/a cede en exclusiva todos los derechos de propiedad intelectual al/la editor/a para todo el mundo y toda la duración de los derechos de propiedad intelectual vigentes aplicables.
El/la editor/a difundirá los textos con la licencia de reconocimiento de Creative Commons que permite compartir la obra con terceros, siempre que éstos reconozcan su autoría, su publicación inicial en esta revista y las condiciones de la licencia.