Verlagssystem and Segovian Drapery Industry Concentration during the Eighteenth century
Abstract
In the first part of this study, the organization of Segovian drapery industry is reconstructed by means of the detailed information coming from Ensenada's Cadastre and some manufacturers' inventories. The main conclusion is the existence of a complex organization that was characterized by the superposition of the Verlagssystem and the guilds. On the one hand, the scattered productive process was financed and conducted by the Verlagssystem. On the other; the guilds controlled the technical aspects and the labour discipline. Production doubled during the 18th century, without changing this organization.
In the second part, we study the process of production concentration into the most powerful Verleger's hands, and the parallel disappearance of the weakest ones. As a consequence, the number of manufacturers was reduced from 191 at the beginning of the century to 89 at the end, although the remaining ones' production was much larger than before.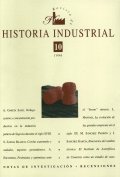 Downloads
License
El/la autor/a cede los derechos al/la editor/a. Creative Commons
El/la autor/a que publica en esta revista está de acuerdo con los términos siguientes:
El/la autor/a cede en exclusiva todos los derechos de propiedad intelectual al/la editor/a para todo el mundo y toda la duración de los derechos de propiedad intelectual vigentes aplicables.
El/la editor/a difundirá los textos con la licencia de reconocimiento de Creative Commons que permite compartir la obra con terceros, siempre que éstos reconozcan su autoría, su publicación inicial en esta revista y las condiciones de la licencia.