Extremadura and Andalusia's Cork, Gerona's Stoppers
Abstract
This article analyzes one of the aspects of the spatial inequality of Spanish industrialization, using, as an example, the cork industry. First of all, the location of the industry in question from its birth, in the middle of the 18th century, unti1 now is described. Then, some hypotheses are shown to explain on the one hand the reasons for the concentration of most of the cork factories en Gerona, far away from the raw material, and, on the other hand, the fact that only a small number of those factories are situated en Estremadura and Andalusia, where the cork oaks are found. Most of them are specialized in obtaining semifactured products for industrial use in Catalonia or more recently in Portugal.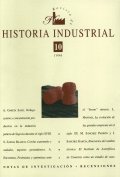 Downloads
License
El/la autor/a cede los derechos al/la editor/a. Creative Commons
El/la autor/a que publica en esta revista está de acuerdo con los términos siguientes:
El/la autor/a cede en exclusiva todos los derechos de propiedad intelectual al/la editor/a para todo el mundo y toda la duración de los derechos de propiedad intelectual vigentes aplicables.
El/la editor/a difundirá los textos con la licencia de reconocimiento de Creative Commons que permite compartir la obra con terceros, siempre que éstos reconozcan su autoría, su publicación inicial en esta revista y las condiciones de la licencia.