Business, goverment and industrial policy in the origins of the Argentine automotive industry, 1943-1958
Keywords:
Industria automotriz, Argentina, Política industrial, Peronismo
Abstract
The aim of this article is to analyze the state's role in the establishment of the argentine automobile industry. Even thought this industry reach an appreciable development since 1959, during the previous decade the national state promote it through the creation of the first national mass production car company, the support of national business and the formation of a company in association with Henry Kaiser. This paper argues that even though the argentine government's interventionism was stronger than in Brazil, Mexico or Colombia, the industrial policy did not tackle some important problems. However, the peronist policy shows more rational than the industrial policy implemented since 1959.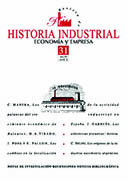 Downloads
License
El/la autor/a cede los derechos al/la editor/a. Creative Commons
El/la autor/a que publica en esta revista está de acuerdo con los términos siguientes:
El/la autor/a cede en exclusiva todos los derechos de propiedad intelectual al/la editor/a para todo el mundo y toda la duración de los derechos de propiedad intelectual vigentes aplicables.
El/la editor/a difundirá los textos con la licencia de reconocimiento de Creative Commons que permite compartir la obra con terceros, siempre que éstos reconozcan su autoría, su publicación inicial en esta revista y las condiciones de la licencia.