The copper industry in Spain II. From 1976 to 2005
Keywords:
Industrialization, Copper Metallurgy, Industrial Policy, Spain
Abstract
This paper second part analyses the impacto over the Spanish copper industry during the crisis that began along the seventies. It is set out the "Plan de Reconversión" content of this subsection approved on March 1982 in orden to increase it productivity –by means of the continuous casting of copper rod installation– and to adjust it to the Spain integration on the EEC challenge. A significant part of this study is dedicated to show that the shock derived from the progressive tariff disarmament starting from 1985 meant the Ibercobre collapse and the others significant companies bankruptcy. That the andalusian copper mining went in an extinction phase, and meanwhile the Río Tinto Minera was bought by Freeport-McMoran; that the companies devoted to refine scrap and copper concentrates through electrolysis disappeared; that the Outokumpu Kope Products Oy and Europa Metalli AG got the control of the great part of the Spanish of smelting and copper rolling. Finally, this paper shows that in the last years this industry has had an outstanding growth; that the withdrawal of some foreign companies has made possible that the native capital recovered the rolled factories control; and that the high copper prices had done that the andalusian copper mining had experienced a kind of phoenix.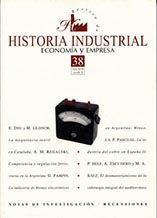 Downloads
License
El/la autor/a cede los derechos al/la editor/a. Creative Commons
El/la autor/a que publica en esta revista está de acuerdo con los términos siguientes:
El/la autor/a cede en exclusiva todos los derechos de propiedad intelectual al/la editor/a para todo el mundo y toda la duración de los derechos de propiedad intelectual vigentes aplicables.
El/la editor/a difundirá los textos con la licencia de reconocimiento de Creative Commons que permite compartir la obra con terceros, siempre que éstos reconozcan su autoría, su publicación inicial en esta revista y las condiciones de la licencia.