SACA: A company of INI for the manufacture of agricultural machinery, 1939-1972
Keywords:
agricultural machinery, I.N.I., Spain
Abstract
Upon the ending of the Spanish Civil War, the Andalusian landowners were aware of the high expectations that the new regime had laid on agriculture and of the need of increasing the agricultural machinery pool. In this context, an important group of them decided to set up an agricultural machinery company, Sociedad Anónima de Construcciones Agrícolas (SACA), founded in Seville on December 29, 1939. Serious flaws in the project and unanticipated difficulties led to its promoters to seek help from the Instituto National de Industria (INI), which agreed to take a majority stake in the company, with the ultimate intention of turning it into one of the largest companies in the group and Spain. As with other similar projects fostered by the INI in Andalusia, in less than 20 years, after consuming considerable resources, it ended up in a complete failure.
Downloads
Download data is not yet available.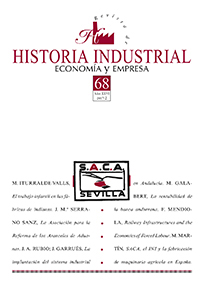 Downloads
License
Copyright (c) 2018 Revista de Historia Industrial. Economía y Empresa
This work is licensed under a Creative Commons Attribution 4.0 International License.
El/la autor/a cede los derechos al/la editor/a. Creative Commons
El/la autor/a que publica en esta revista está de acuerdo con los términos siguientes:
El/la autor/a cede en exclusiva todos los derechos de propiedad intelectual al/la editor/a para todo el mundo y toda la duración de los derechos de propiedad intelectual vigentes aplicables.
El/la editor/a difundirá los textos con la licencia de reconocimiento de Creative Commons que permite compartir la obra con terceros, siempre que éstos reconozcan su autoría, su publicación inicial en esta revista y las condiciones de la licencia.