Agricultural evolution and industrial development in the Valencian economy: guano imports and production of chemical fertilizers by Trenor y Cía. (1838-1926)
Keywords:
Valencian agriculture, fertilizers, Trenor y Cía, business, 19th century, accounting information
Abstract
Based on the relevant experience of Trenor y Cía., a business established in Valencia (Spain), this research provides evidence about how the advance in the Spanish industry due to the development of chemical fertilizers during the 19th century influenced agrarian progress. This achievement supports the idea of interrelation between agricultural modernization and industrial growth, and suggests that the evolution of agriculture-industry happened in terms of compatibility and complementarity. Trenor y Cía. undertook several commercial and financial businesses, the fertilizer business being the main activity that made huge profits. Thus, the company was an importing agent of guano for more than half a century and a pioneer in solubilizing phosphates with sulphuric acid and producing chemical fertilizers, as evidenced by the registered patents.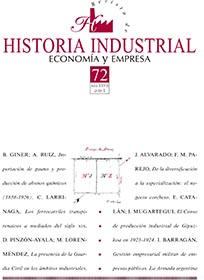 Downloads
License
El/la autor/a cede los derechos al/la editor/a. Creative Commons
El/la autor/a que publica en esta revista está de acuerdo con los términos siguientes:
El/la autor/a cede en exclusiva todos los derechos de propiedad intelectual al/la editor/a para todo el mundo y toda la duración de los derechos de propiedad intelectual vigentes aplicables.
El/la editor/a difundirá los textos con la licencia de reconocimiento de Creative Commons que permite compartir la obra con terceros, siempre que éstos reconozcan su autoría, su publicación inicial en esta revista y las condiciones de la licencia.