Tourism during the Spanish Civil War, 1936-1939: the impact of war on a burgeoning tourist system
Keywords:
Spain, tourism, Civil War
Abstract
This paper is based on several assumptions: tourism as an economic activity and as a social practice in Spain during the first third of the twentieth century was more significant than is generally assumed; prior to the Civil War, the foundations of the contemporary Spanish tourism system were being laid; in 1936 Spain was evidently, from the international figures available, an emerging tourist destination on the global tourism market. The paper is organized in five sections. The first presents the lines of development in Spanish tourism between 1900 and 1936, and how a particular tourism system is configured. The second shows, with several indicators, the tourism situation in the first quarter of 1936 and the tourism collapse from the second semester of 1936 to the end of 1939, with its local variants. The third section presents the fundamental features of the negative impact of the war on the incipient Spanish tourism system. The fourth and fifth sections explain how the war gave rise to new forms of tourism, described as war tourism, and explain what lies behind each of these forms.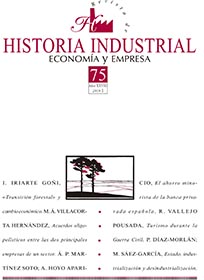 Downloads
License
El/la autor/a cede los derechos al/la editor/a. Creative Commons
El/la autor/a que publica en esta revista está de acuerdo con los términos siguientes:
El/la autor/a cede en exclusiva todos los derechos de propiedad intelectual al/la editor/a para todo el mundo y toda la duración de los derechos de propiedad intelectual vigentes aplicables.
El/la editor/a difundirá los textos con la licencia de reconocimiento de Creative Commons que permite compartir la obra con terceros, siempre que éstos reconozcan su autoría, su publicación inicial en esta revista y las condiciones de la licencia.