Warriors and Mystics: Religious Iconography, Eroticism, Blasphemy and Gender in Punk Female Artists
Paraules clau:
punk, religion, blasphemy, eroticism
Resum
This paper discusses the relationship between the use of religious iconography related to eroticism by Spanish punk artists, and the gender stereotyping that the appropriation of these symbols aims to destabilize. The desire to shock and disturb the audience places these artists in a position where they have to challenge established values, such as religious and identity ones. There are many examples of male punk bands that openly rebel against organized religion, but the critique of these bands is direct, whereas women use eroticism to expose the patriarchal strategies of the church, as well as to project an image of themselves that breaks all expectations. Religious iconography becomes the tool for the ironic reevaluation and eventual destruction of cultural and gender structures as part of their artistic program.
Referències
ABC, "Rechazo generalizado a la canción de 'Las Vulpes'", 30/04/1983: 25.
Arnold, Thomas K. (1988), "Queen of the Dark Side Finally Sees the Limelight", Los Angeles Times, 02/11/1988.
Bracewell, Michael (1996), "Woman as Warrior", The Guardian (weekend supplement), 22/06/1996.
Cleary, David (no date), "Review of Join Hands", All Music.
Curra, Ana (1989), "Quiero ser santa", Fan fatal, Hispavox.
Desechables (1983), "La oración", La Oración, Tres Cipreses, Discos CBS.
Farber, Jim (2014), "Patti Smith Answers Her Critics about Upcoming Vatican Performance: 'I Like Pope Francis and I'm Happy to Sing for Him'", New York Daily News, 18/11/2014.
Grow, Kori (2014), "Patti Smith Explains Mixed Feelings about Religion, 'Noah' Song", Rolling Stone, 15/10/2014.
Gruchy, John W. (2003), Christianity, Art and Transformation. Cambridge, Cambridge UP.
Johnson, Mark (2014), Seditious Theology: Punk and the Ministry of Jesus, London, Routledge.
Korte, Anne Marie, Katya Tolstaya, and Heleen Zorgdrager (2014), "Religion and Gender: Pussy Riot as Litmus Paper: Political Protest and Religious Culture", Religion & Gender, 4(2) (special issue): 91-201.
Kristeva, Julia (1987), "Baudelaire, or Infinity, Perfume, and Punk", Tales of Love, Leon S. Roudiez (trans.), New York, Columbia UP: 318-340.
Nastasi, Alison (2015), "'Pleasure Is the Ultimate Rebellion': Lydia Lunch on Making Poetry Out of Horror, Uncompromising Self-Love, and Her First Major Retrospective", Flavorwire, 07/05/2015.
Noland, Carrie Jaurès (1995), "Rimbaud and Patti Smith: Style as Social Deviance", Critical Inquire, 21(3): 581-610.
O'Brien, Lucy (1995), She Bop: The Definite Study of Women in Rock, Pop, and Soul, New York, Penguin.
P-Orridge, Genesis (dir.) (1984), "Moonchild" [video].
Quance, Roberta Ann (2011), "The Theatricalized Self: Women Artists in Masquerade from 1920 to the Present", A Companion to Spanish Women Studies, Xon de Ros and Geraldine Hazbun (eds.), Woodbrige, Tamesis: 257-272.
Roessler, Gerrit (2016), "Walking the Great Line: Underoath and Christian Fundamentalism in Punk Rock after 9/11", The Politics of Post 9/11 Music: Sound, Drama and the Music Industry in the Time of Terror, Joseph P. Fisher and Brian Flota (eds.), London and New York, Routledge.
Savage, John (1991), England's Dreaming. Sex Pistols and Punk Rock, London, Faber and Faber.
—(2000), Women and Popular Culture. Sexuality, Identity, and Subjectivity, London, Routledge.
Sioux, Siouxsie (1979), "The Lord's Prayer", Join Hands, Polydor Records.
Smith, Patti (1975), "Break It Up", Horses, Arista Records.
Volkova, Elena (2014), "Mater Nostra: The Anti-Blasphemy Message of the Feminist Punk Prayer", Religion and Gender, 4(2): 202-208.
Whiteley, Sheila (ed.) (1997), Sexing the Groove. Popular Music and Gender, London, Routledge.
Willems, Joachim (2014), "Why 'Punk'? Religion, Anarchism and Feminism in Pussy Riot's Punk Prayer", Religion, State and Society, 42(4): 403-419.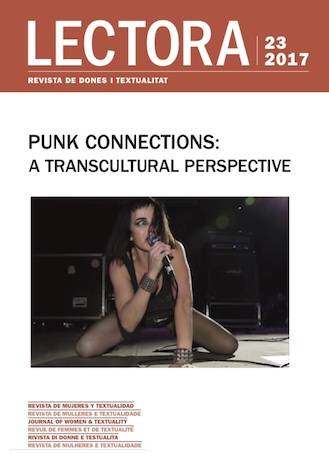 Descàrregues
Com citar
Garrigós, C. (2017). Warriors and Mystics: Religious Iconography, Eroticism, Blasphemy and Gender in Punk Female Artists. Lectora: Revista De Dones I Textualitat, (23), 51–65. https://doi.org/10.1344/Lectora2017.23.4
Llicència
Els autors i les autores conserven els drets d'autoria i atorguen a Lectora: revista de dones i textualitat el dret exclusiu de difusió, durant un any des de la publicació a la revista, a partir del qual l'obra serà disponible simultàniament sota una Llicència de Reconeixement-NoComercial- SenseObraDerivada de Creative Commons que, si no si indica el contari, permet compartir l'obra amb tercers, sempre que aquests en reconeguin l'autoria i la publicació inicial en aquesta revista.

Els autors i autores són lliures de fer acords contractualsaddicionals independents per a la distribució no exclusiva de la versió de l'obra publicada a la revista (com ara la publicació en un repositori institucional o en un llibre), sempre que se'n reconegui la publicació inicial en aquesta revista, un cop transcorregut un any des de la seva aparició.

S'encoratja els autors i autores a reproduir la seva obra en línia (en repositoris institucionals, temàtics o a la seva pàgina web, per exemple) passat el període de difusió en exclusivitat a la revista, amb l'objectiu d'aconseguir intercanvis productius i fer que l'obra obtingui més citacions (vegeu The Effect of Open Access, en anglès).