Transforming the historical waterfront: An(r/t)repo in Istanbul
Keywords:
Antrepo, Urban renewal, Gentrification
Abstract
This article focuses on the ongoing transformation of Antrepo buildings (warehouses) built on the piers in Salıpazarı Harbor, its effect on the public domain, and the outcry of the residents against using venues of art used for purely commercial purposes, resulting in gentrification. Planned and designed by Sedat Hakkı Eldem, one of the pioneers of the Modern Movement in Turkey in the late 1950s, Salıpazarı Harbor functions as the main international port of İstanbul. Besides the fact that the warehouses of the pier were housed in Tophane earlier, Salıpazarı has immense historical and cultural importance; it faces the Historical Peninsula, is adjacent to the open museum of Ottoman architecture dating to the seventeenth century, and is a contemporary art venue.
The harbor area consists of seven warehouses that were functional until 1990. Since then, three of the warehouses have been renovated to become, respectively, the İstanbul Modern art gallery, an art exhibition gallery, and the İstanbul art biennial venue. Beginning with the 1990s, this area has come under great threat with the announcement of the "Galataport" project, which aims to transform the harbor into a cruise port with residential and trade facilities, thereby reducing public access to the historical waterfront area and becoming another site of gentrification. This plan for the adaptation and reuse of the warehouses drew a great deal of opposition from the public.
This article, therefore, examines the status of art used as a tool to generate capital and bring about gentrification versus the public, whose lives are going to be affected by these proposed changes. It addresses how art is evaluated from different perspectives in urban transformation, based on social and political interests, taking the example of the Salıpazarı Harbor.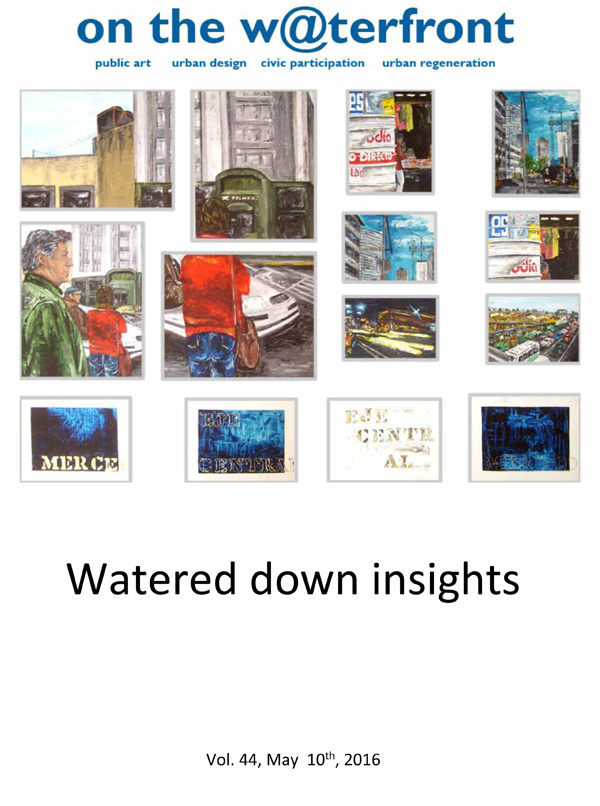 Downloads
How to Cite
Gökçe Özdamar, Esen. 2016. "Transforming the Historical Waterfront: An(r/T)repo in Istanbul". On the W@terfront 44 (May):7-19. https://revistes.ub.edu/index.php/waterfront/article/view/18682.
License
The 
 licence allows: Share — copy and redistribute the material in any medium or format and Adapt — remix, transform, and build upon the material for any purpose, even commercially.The licensor cannot revoke these freedoms as long as you follow the license terms. Author's rights are protected by the ISSN 1139-7365. On the w@terfront has no restrictions respect the copyright by the authors and does allow authors to retain the publishing rights without restrictions.
This journal does not apply any type of charge to the authors for the presentation or processing of the articles.