On the strange place of Public Art in contemporary Art Theory
Paraules clau:
Art Theory, Public Art
Resum
Este artículo parte de la idea, ampliamente difundida, que el concepto de arte público desafía radicalmente los conceptos de obra de arte autónoma. Luego considera más específicamente, la extrañeza que la noción de que el arte público no es un territorio a disposición de la creación artística libre, por el contrario, tiene que adaptarse a las complejas y exigentes del espacio público, genera en el campo teoría del arte contemporáneo, incluso en las mentes de los críticos que, como Rosalind Krauss, de combate a las raíces esencialistas de la autonomía prevista por el modernismo y con el apoyo de los artistas frente "de lucha contra la estética"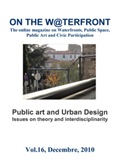 Descàrregues
Com citar
Cunha Leal, Joana. 2010. "On the Strange Place of Public Art in Contemporary Art Theory". on the w@terfront. Public Art.Urban Design.Civic Participation.Urban Regeneration, no. 16 (June):35-52. https://revistes.ub.edu/index.php/waterfront/article/view/18711.
Llicència
The 
 licence allows: Share — copy and redistribute the material in any medium or format and Adapt — remix, transform, and build upon the material for any purpose, even commercially.The licensor cannot revoke these freedoms as long as you follow the license terms. Author's rights are protected by the ISSN 1139-7365. On the w@terfront has no restrictions respect the copyright by the authors and does allow authors to retain the publishing rights without restrictions.
This journal does not apply any type of charge to the authors for the presentation or processing of the articles.