COMPLEXITY AND TRANSDISCIPLINARITY IN URBAN DESIGN: RESEARCH AND EDUCATION
Keywords:
Urban and Territorial Design, Interdisciplinarity and Transdisciplinarity, Working methods, Research, Learning-Teaching processes
Abstract
The Article is a written version of the Main Lecture held in the Closing Session of the Ibero-American Seminar about Interdiscipline in Urban Design carried out in San José de Costa Rica between 25th.- 30th. September 2013. Deal with some aspects of research and education in urban design, shown through the aspects of Complexity and Transdisciplinarity that characterizes the evolution of Science in the last decades.
The article begins dealing with the complex interactions among Nature, Society and Knowledge, essential to later understand the other parts of it. Then deals with the new conceptions about Science and Research that arose from the prior interactions. Transdisciplinarity as concept and method of research and education is the third analyzed aspect. Then there are presented three approaches to handle with transdisciplinary research: the Sensitivity Model of Frederic Vester, the free of charge Toolbox of the French Prospective under the academic leadership of Michael Godet and the Embedded Case Study Methods developed by Roland W. Scholz in the Federal Polytechnic Institute Eth in Zurich, as integration among University and Society. The last part deals with the influence of Complexity and Transdisciplinarity in the transformation of the universities and of its learning-teaching processes to face urban problems.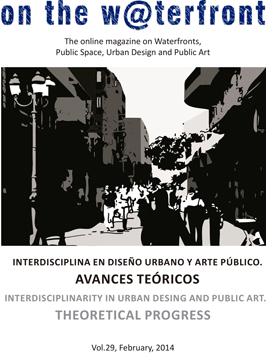 How to Cite
Bancrofft-Hernández, Rubén Andrés. 2014. "COMPLEXITY AND TRANSDISCIPLINARITY IN URBAN DESIGN: RESEARCH AND EDUCATION". On the W@terfront, no. 29 (February):4-21. https://revistes.ub.edu/index.php/waterfront/article/view/18840.
License
The 
 licence allows: Share — copy and redistribute the material in any medium or format and Adapt — remix, transform, and build upon the material for any purpose, even commercially.The licensor cannot revoke these freedoms as long as you follow the license terms. Author's rights are protected by the ISSN 1139-7365. On the w@terfront has no restrictions respect the copyright by the authors and does allow authors to retain the publishing rights without restrictions.
This journal does not apply any type of charge to the authors for the presentation or processing of the articles.