SENSES OF PLACE: CONFLICTING CULTURAL IDENTITIES WITHIN BIRMINGHAM'S BULLRING DEVELOPMENT
Abstract
Birmingham City Council pressed for the inclusion of public art within the city's Bullring development in the belief that, together with the design of the buildings, it helped to create a unified sense of place. In practice this has proved problematic for a culturally diverse city with a rapidly changing role in the world.

The City Council sought to present Birmingham as a modern, cosmopolitan and forward‐thinking place. Within the Bullring Development, two contemporary works of work – a water feature by the landscape architects Gross Max and Laurence Broderick's Bronze Bull ‐ accord well with this image of the city. In Gross Max's work, the choice of materials and the simple geometric shapes reflect the same modernist aesthetic as the buildings. Broderick's Bronze
Bull, whilst alluding to Birmingham's origins as a cattle market, also references the city's European links – including its twinning with Barcelona. However, a third piece of public art is much older: Westmacott's statue of Horatio Nelson was first unveiled in Birmingham in 1810, when the country was at war with France. Its nationalism is at odds with the desire to be seen as a forward‐thinking, more cosmopolitan city. Seen from one angle against the backdrop of Selfridges, the conflict between the two very different senses of cultural identity is particularly striking.
To conclude, while public art reflects a very real sense of cultural identity, it is one that is specific to a particular time and group. The inclusion of art works from different periods only highlights this issue.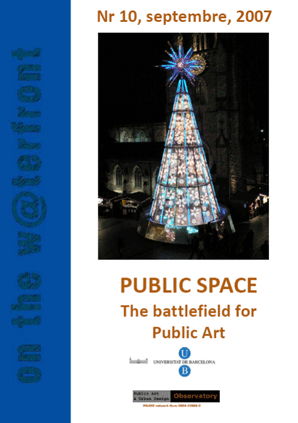 How to Cite
Waterhouse, Fiona. 2007. "SENSES OF PLACE: CONFLICTING CULTURAL IDENTITIES WITHIN BIRMINGHAM'S BULLRING DEVELOPMENT". On the W@terfront, no. 10 (September):31-36. https://revistes.ub.edu/index.php/waterfront/article/view/18917.
License
The 
 licence allows: Share — copy and redistribute the material in any medium or format and Adapt — remix, transform, and build upon the material for any purpose, even commercially.The licensor cannot revoke these freedoms as long as you follow the license terms. Author's rights are protected by the ISSN 1139-7365. On the w@terfront has no restrictions respect the copyright by the authors and does allow authors to retain the publishing rights without restrictions.
This journal does not apply any type of charge to the authors for the presentation or processing of the articles.