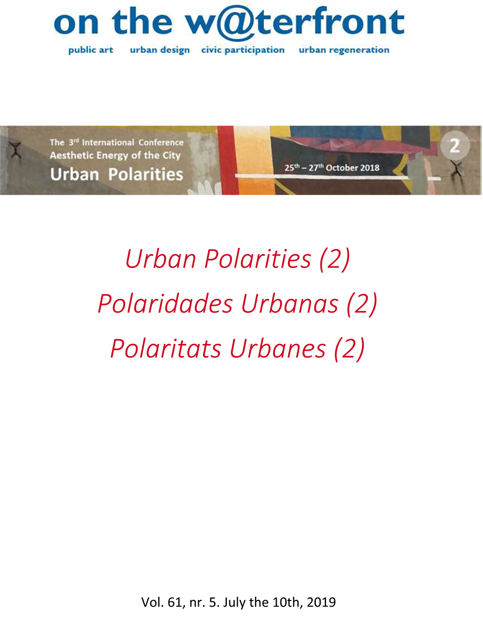 Arte de calle y patrimonio inmaterial: un enfoque contextualizado del arte público en Vitoria-Gasteiz.
Resumen
Este documento presenta los resultados del trabajo de campo etnográfico realizado en la ciudad de Vitoria-Gasteiz, capital del País Vasco, entre el 4 y el 8 de diciembre de 2017. En la última década, Vitoria-Gasteiz se ha hecho internacionalmente conocida gracias a su Galería de arte mural público. Los murales de Vitoria-Gasteiz, de hecho, fueron uno de los principales atractivos de la ciudad cuando obtuvieron el reconocimiento de la Capital Verde Europea en 2012. Comenzaron a ser producidos por el proyecto IMVG en 2007 sobre la misma base de sostenibilidad que el general. Agenda de la ciudad. Esta agenda cultural se convirtió en una referencia de clase mundial en el campo de los estudios de patrimonio cultural, la gestión y la arqueología de la arquitectura gracias al proyecto Abierto por Obras que integraba la sostenibilidad en los procesos de investigación y desarrollo de excavación, restauración, reparación. , consolidando, documentando y exponiendo la catedral gótica de Santa María a través de la interpretación cultural. Ese programa se convirtió en un ejemplo de buenas prácticas reconocidas internacionalmente y que atraía a personas como Ken Follet, quien presentó Un mundo sin fin, su secuela de Los pilares de la Tierra, en el edificio. El énfasis en la sostenibilidad hace que el IMVG sea un caso de estudio excepcional dentro del mundo actual de Street Art, donde normalmente las expresiones tienden a ser más efímeras. Uno de los aspectos más singulares del IMVG son sus métodos de trabajo basados en la práctica comunitaria, el compromiso social y la participación pública. La combinación de estas características particulares hace que el IMVG sea un caso excepcional en la península ibérica, donde muchos festivales y proyectos de arte callejero se desarrollaron rápidamente y produjeron grandes piezas de arte mural público en paralelo al IMVG desde la década de 2000.
Palabras clave
trabajo de campo etnográfico; Vitoria-Gasteiz; País Vasco; Capital Verde Europea; Proyecto IMVG; Proyecto Open for Works; Ken Follet; sustentabilidad práctica comunitaria; compromiso social; participación pública; Arte callejero; galería urbana; arte mura
Referencias
ASOCIACIÓN DE VÍCTIMAS Y FAMILIARES DE VÍCTIMAS DEL 3 DE MARZO, 2014. 'El mural de Zaramaga sobre el 3 de Marzo listo para ser inaugurado'. Martxoak 3 de Marzo (retrieved online, http://www.martxoak3.org/el-mural-de-zaramaga-sobre-el-3-de-marzo-listo-para-ser-inaugurado/

AZKÁRATE, A., CÁMARA, L., LASAGABASTER, J. I. AND LATORRE, P., 1998. Catedral de Santa María, Vitoria-Gasteiz. Plan Director de Restauración. Vitoria-Gasteiz: Diputación Foral de Álava (Retrieved online, https://issuu.com/catedralvitoria.com/docs/www.catedralvitoria.com,

COCKCROFT, E., WEBBER, J. AND COCKCROFT, J., 1977. Toward a People's Art: The Contemporary Mural Movement. New York: Dutton
EUROPEAN COMISSION, n.d.. '2012 - Vitoria-Gasteiz'. Environment. European Green Capital. (retrieved online, http://ec.europa.eu/environment/europeangreencapital/winning-cities/2012-vitoria-gasteiz/,

FUNDACIÓN CATEDRAL SANTA MARÍA, 2008. 'Ken Follet presents World Without End at the Santa María Cathedral' . Notas de prensa. Catedral de Santa María - Katedrala Santa María (retrieved online, https://www.catedralvitoria.eus/en/current/1486/ken-follett-presents-world-without-end-at-the-sant, 24-11-2018)

GIBSON, J.J., 1977. 'The theory of affordances'. In: SHAW, R. and BRANSFORD, J., eds., Perceiving, Acting and Knowing. Hillsdale, NJ: Eribaum

GONZÁLEZ, A. M., 1982. 'Murals: Fine, Popular, or Folk Art?'. Aztlan 13, pp. 149-163
I.F., 2018. ' Así luce el mural que reivindica la lucha vecinal de Sant Feliu de Llobregat'. El Periódico, 20-06-2018 (retrieved online, https://www.elperiodico.com/es/sociedad/20180620/mural-la-salut-sant-feliu-llobregat-6895686, 04-07-2018)

IOSIFIDIS, K., 2009. Mural Art: Large Scale Art from Walls Around the World from Graffiti to Trompe l'oeil, vol 2. Mainaschaff: Publikart, p. 48
LEKUE, I., 2016. 'Memorial 3 de marzo Emakumeen Indarra'. Irantzu Lekue (retrieved online, Ihttp://iralekue.com/portfolio-item/emakumeen-indarra/

SOMMER, R., 1975. Street Art. New York: Links

SIQUEIROS, D. A., 1973. L'art et la révolution. Paris: Editions Sociales p. 23-26;

TIBOL, R., 1961. Siqueiros: introductor de realidades. México D.F.: UNAM, 1961, pp 53-58

UNESCO, 2003. Basic Texts of the 2003 Convention for the Safeguarding of the Intangible Cultural Heritage. Paris: UNESCO, p. 5 (retrieved online, https://ich.unesco.org/doc/src/2003_Convention_Basic_Texts-_2018_version-EN.pdf,

VILLAJOS, S. G., in press. 'From Ruskin's Grotesque to Street Art. Art Nouveau Murals and longue durée' III Art Nouveau International Congress. Barcelona: Coup de Fouet

WERCKMEISTER, V., 2014. 'A Case Study in Monumental Contemporary Muralism: Creating landmarks, creating together?. In: SOARES NEVES, P. and FREITAS SIMOES, D. (eds.), Lisbon Street Art & Urban Creativity. Lisbon: 2014
DOI:
https://doi.org/10.1344/waterfront2019.61.6.6
Enlaces refback
No hay ningún enlace refback.
Copyright (c) 2019 Santiago Villajos, Verónica Werckmeister, Lander García

Este obra está bajo una
licencia de Creative Commons Reconocimiento 4.0 Internacional
.
________________________________________________________________________________________________________________________
Soporte: Proyectos I+D+I del MICIN HAR2017-88672-R; HAR2012-30874; HAR2011-14431-E; HUM2009-13989-C02-01; HUM2006-12803-C02-01; HUM2005-00420; HUM2004-22086-E; BHA2002-0052;