Reloj de 20 horas
Keywords:
Covid 19, ciudadanía, solidaridad, Barcelona, Bon Pastor, operación Mercedes, monumento
Abstract
Monumento en positivo. No es ni a las víctimas, ni a los héroes.
Es la conmemoración de un momento/acción específico, que reúne todo lo demás.

El aplauso de las 20hrs es la instancia en que la ciudadanía se agradece y anima a sí misma

• Las 20:00 serán el elemento central en la significación del monumento. Desde su concepción temporal o geométrica, la idea es conmemorar este acto ciudadano

• Lo que hoy es evidente u obvio, en 20 años puede no serlo tanto
Por otro lado, la abstracción conceptual exacerbada puede llevarnos a la perdida de legibilidad del monumento, característica fundamental del mismo (la conmemoración debe ser comprendida).

El objetivo es lograr que el monumento pueda evocar, no solo un momento cronológico, sino un momento humano
References
ANGOSTO, S (2019). Mapping the History of a Territory: Bon Pastor (Barcelona) – Social Remembrance and Heritage Project. Acta Universitatis Lodziensis. Folia Philsophica-Ethica-Aesthetica-Practica, 33, 37–55. https://doi.org/10.18778/0208-6107.33.03
AJUNTAMENT DE BARCELONA.(2012).Estrategia de Desarrollo Urbano Sostenible e Integrado. FEDER 2014-2020.
CONSORCI BESOS.(2017) Agenda Besòs:resumexecutiu. Barcelona.
PLA DE BARRIS.(2019).«El Pla de Barris de Barcelona 2016-2020.Memòria de seguiment».https://issuu.com/bcncat/docs/pladebarris_memoriaseguiment 2019
REMESAR, A; CRESPO, B. (2017). The White Centre. A first step of the civic remembrance system in Bon pastor (Barcelona). Acta Universitatis Lodziensis. Folia Philsophica-Ethica-Aesthetica-Practica, 30, 9–39. http://dx.doi.org/10.18778/0208-6107.30.02
REMESAR, A., & VERGEL FARO, J. (2020). Acceder a la gestión de lo simbólico. Un derecho ciudadano. on the w@terfront. Public Art.Urban Design.Civic Participation.Urban Regeneration, 62(7), 39-56. doi:https://doi.org/10.1344/waterfront2020.62.6.11

SALAS, X. (2015). L'artista com a facilitador en els processos de participació ciutadana: El cas Baró de Viver a Barcelona [Tesis Doctoral, Universitat de Barcelona.]. htt://hdl.handle.net/10803/308505
SALAS, X. (2016). Bon Pastor (Barcelona) Un territorio en construcción. On the W@terfront [En Línia], 43, 7–46. http://raco.cat/index.php/Waterfront/article/view/308596/398605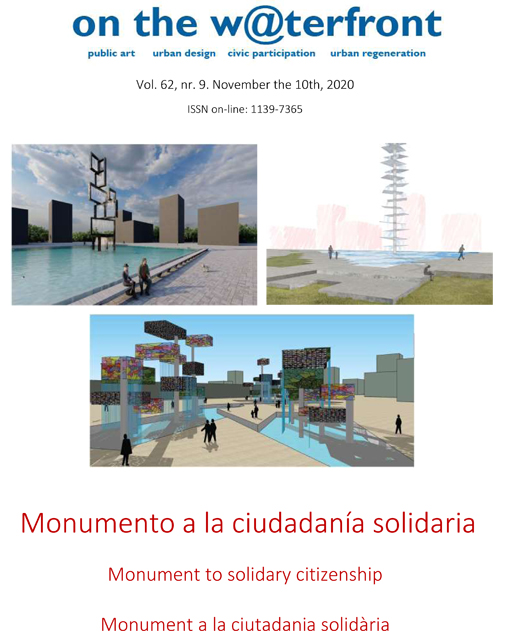 Downloads
How to Cite
del Real, Nicolas. 2020. "Reloj De 20 Horas". On the W@terfront 62 (9):59-69. https://doi.org/10.1344/waterfront2020.62.6.16.
License
The 
 licence allows: Share — copy and redistribute the material in any medium or format and Adapt — remix, transform, and build upon the material for any purpose, even commercially.The licensor cannot revoke these freedoms as long as you follow the license terms. Author's rights are protected by the ISSN 1139-7365. On the w@terfront has no restrictions respect the copyright by the authors and does allow authors to retain the publishing rights without restrictions.
This journal does not apply any type of charge to the authors for the presentation or processing of the articles.