The aesthetics of green guerrilla. From activism to fine art
Keywords:
urban greenery, guerrilla gardening, DIY urbanism, public space
Abstract
Grassroots movements – the activisms associated with the greening of the cities, reclaiming wastelands, establishing community gardens, improving the quality of life in industrialized places through minor nature-based interventions, as well as protection and safeguarding of the scraps of nature within cities – are what in this article I call green guerilla.
I want to demonstrate how these small-scale grassroots movements grow; how their actions lead to official solutions; how they become institutionalized and, sometimes, commercialized.
However, above all, by linking them with the environmental and participatory aesthetic trends, I wish to indicate their aesthetic aspects and the fact that they frequently bear the hallmarks of art.
References
AJ+. (2017) Teeny Tiny Pothole Gardens [video]. June 17, https://www.thepotholegardener.com/
blog/2017/6/20/help-me-spread-the-happiness.
BALMORI, DIANA; MORTON MARGARET. (1995) Transitory Gardens, Uprooted Lives. New Haven,
Connecticut: Yale University Press.
BARRERE, CÉLINE. (2010) Green guerillas, illegal gardens, and city activist gardeners: between land
reclaim, promoting local scale, and cultures of resistance. Presentation: IGU Urban Commission, Tel
Aviv, 2010, https://www.unil.ch/igu-urban/en/home/menuinst/activities/working-papers/abstracts-telaviv-
2010/barrere.html
BAUDRY, SANDRINE. (2014) "Plants as a Tool for DIY Urbanism: between Guerilla and Institutionalisation".
Romanian Journal of American Studies, no 2, pp.41-51; online: http://www.raas.ro/uploads/
volumes/2014/2/01_Baudry_DIY%20Urbanism%20in%20NYC%20and%20Paris.pdf
BELL, SIMON et al. (eds) (2016) Urban Allotment Gardens in Europe. London New York: Routledge.
BERLEANT, ARNOLD. (2012) Aesthetics Beyond the Arts: New and Recent Essays. Burlington: Ashgate.
BIEL, ROBERT (2016) Sustainable Food Systems: The Role of the City. London: UCL Press.
BISHOP, CLAIRE. (2012) Artificial Hells: Participatory Art and the Politics of Spectatorship. London: Verso.
BOURRIAUD, NICOLAS. (2002) Relational Aesthetics. (tansl. by Pleasance, Simon; Woods, Fronza), Dijon:
Less presses di réel.
CARLSON, ALLEN.(2020) Environmental Aesthetics. In: The Stanford Encyclopedia of Philosophy (Winter
2020 Edition), Zalta, Edward N. (ed.), https://plato.stanford.edu/archives/win2020/entries/environmental aesthetics.
CASH, JOHN DAVID.(2010) "People's Park. Birth and Survival". California History, 88 (1), pp.8-29.
CRUZVILLEGAS, ABRAHAM. (2015) "Empty Lot" [video]. Tateshots 13 OCTOBER, https://www.tate.org.uk/
whats-on/tate-modern/exhibition/hyundai-commission-2015-abraham-cruzvillegas-empty-lot
DI PIETRO, FRANCESCA. (et al.) (2018) Community gardens and their potential for urban biodiversity. In:
Glatron Sandrine, Granchamp Laurence (eds.). The Urban Garden City: Shaping the City with Gardens
through History, Cham: Springer, pp. 131-151
DOUGLAS, GORDON C. C.(2014) Do-It-Yourself Urban Design: The Social Practice of Informal
"Improvement" Through Unauthorized Alteration. City & Community, 13 (1), pp. 5-2
FINLAY, RON. (2013) The guerrilla gardener in South Central LA [video]. TED Talks, https://www.ted.com/talks/
ron_finley_a_guerrilla_gardener_in_south_central_la#t-85.
FINN, DONOVAN. (2014) DIY urbanism: implications for cities. Journal of Urbanism: International Research
on Placemaking and Urban Sustainability, 7 (4), pp.381-398, on-line: https://doi.org/10.1080/17549175.2
014.891149
GREER, BETSY. (2007) Craftivism. In: Encyclopedia of Activism and Social Justice. Anderson, Gary L.; Herr,
Kathryn G. (eds.), vol.1, on-line: https://sk.sagepub.com/reference/activism/n218.xml
HARDMAN, MICHAEL. (2011) Understanding guerrilla gardening: an exploration of illegal cultivation in the
UK. Centre for Environment and Society Research Working Paper series no. 1, Birmingham: Birmingham
City University Centre for Environment and Society Research Faculty of Technology.
HERBERT, CLAIRE W. (2021) A Detroit Story: Urban Decline and the Rise of Property Informality. Oakland:
University of California Press.
HERMAN, KRZYSZTOF. (2011) Temporary, mobile and nomadic gardens in urban space. EFLA Regional
Congress 2011, https://www.researchgate.net/publication/320282585_Temporary_mobile_and_
nomadic_gardens_in_urban_space
HOU, JEFFREY.(2010) (Not) your everyday public space. In: Hou, Jeffrey (ed.). Insurgent Public Space
Guerrilla urbanism and the remaking of contemporary cities New York: Routledge, pp.1-18.
KICKERT, CONRAD; AREFI, MAHYAR. (2019) Introduction. In: Arefi, Mahyar; Kickert, Conrad (eds) The Palgrave Handbook of Bottom-Up Urbanism. Cham: Palgrave Macmillan.
KINDER, KIMBERLEY. (2016) DIY
Detroit: Making Do in a City without Services. Minneapolis: University Minnesota Press, 2016.
KNIGHT, BEN (2020) DIY urbanism: when citizens take on city planning, UNSW Newsroom, 04 NOV;
https://newsroom.unsw.edu.au/news/art-architecture-design/diy-urbanism-when-citizens-take-cityplanning
LANE FOX, ROBIN. (2015) The art of 'guerrilla' gardening at Tate Modern. Financial Times, November 13,
on-line: https://www.ft.com/content/a6da97a0-8304-11e5-8e80-1574112844fd
LUVAAS, BRENT. (2012) DIY Style: Fashion, Music and Global Digital Cultures. London, New York: Bloomsbury.
MACKIE, JOHN. (2017) This Week in History: 1971 All Seasons Park springs up at the entrance to Stanley Park. Vancouver Sun, May 26, on-line: https://vancouversun.com/news/local-news/this-week-in-history-
1971-all-seasons-park-springs-up-at-the-entrance-to-stanley-parkr4
MAĆKIEWICZ, BARBARA; ASUERO, RAÚL PUENTE; PAWLAK, KRYSTYNA. (2018) Reclaiming Urban Space: A
Study of Community Gardens in Poznań. Quaestiones Geographicae 37(4), pp.131-150
MIESSEN, MARCUS. (2011) The Nightmare of Participation. Berlin: Sternberg Press.
MITCHELL, DON. (1995) The End of Public Space? People's Park, Definitions of the Public, and Democracy.
Annales of the Association of American Geographers, 85 (1), pp.108-133.
MILLER, LEWIS. (2020) The Power of Flowers [video], Teds Talks, https://www.youtube.com/watch?v=JCVUyeHD2lQ
MÜLLER, CHRISTA. (2017) Intervention to public space: New Urban gardening in New York and Berlin.
Sustainable Communities Review, 10 (1), pp. 48-59, on-line: crjournal.org/SCR%20Summer%202017/6_
Christa_updated_2.pdf
PASQUALI, MICHELA LOISAIDA.(2006) NYC Community Gardens. Publisher: Michela Pasquali.
PÉREZ, CHRISTINA. (2008) This Florist-Bandit Is the Hero We Need Right Now. Vouge, April 20, online:
https://www.vogue.com/article/lewis-miller-flower-flashes-new-york-installations
REYNOLDS, RICHARD.(2008) On Guerrilla Gardening: A Handbook for Gardening without Boundaries, New
York: Bloomsbury.
REYNOLDS, RICHARD. (2011a) WWB TV. Richard Reynolds. Krótka Historia Partyzantki Ogrodniczej [Short
history of guerrilla gardening – lecture in English, video]. October 27, https://artmuseum.pl/pl/doc/videowwb-
tv-richard-reynolds
REYNOLDS, RICHARD. (2011b) WWB TV. Richard Reynolds. Pytania Publiczności
[Ricard Reynolds - Audience questions, video]. October 27, on-line; https://artmuseum.pl/pl/doc/videowwb-
tv-richard-reynolds3
SMITH, CATHY. (2015) The Artisan, the State and the Binaries of DIY Urbanism. In: Hogben, Paul; O'Callaghan
Judith (eds.) Proceedings of the Society of Architectural Historians, Australia and New Zealand: 32,
Architecture, Institutions and Change. Sydney: SAHANZ, pp. 616-626. on-line: https://www.researchgate.net/
publication/326675019_The_Artisan_The_State_and_the_Binaries_of_DIY_Urbanism
SORLIEN, SANDY. (2015) The Lexicon of Lean Urbanism, August 13, https://leanurbanism.org/
publications/lexicon/
STEUTEVILLE, ROBERT.(2017) Great idea: Lean Urbanism, Interview with Hank Dittmar. CNU Congress for
the New Urbanism, JUN. 1, https://www.cnu.org/publicsquare/2017/06/01/great-idea-lean-urbanism
SULIMA, ROCH. (2000) Antropologia codzienności, Kraków: Wydawnictwo Uniwersytetu Jagiellońskiego.
The American Community Gardening Association (ACGA). (2019) Annual Report Fiscal
Year 2019. https://b1b85574-bf08-4d46-8c44-326622c7ebf1.filesusr.com/ugd/ec62d1_
da49adedcaa34e29a8edda0d9ba33c8c.pdf
TRACEY, DAVID. (2007) Guerrilla Gardening. A Manualfesto. New Society Publishers: Gabriola Island.
TUPPER, PETER (2012) Vancouver's other Occupation: All Season's Park. August 20, http://petertupper.
com/2012/08/20/vancouvers-other-occupation-all-seasons-park/
WHO Raport (2017a) Urban green spaces: a brief for action. on-line: https://www.euro.who.int/en/
health-topics/environment-and-health/urban-health/publications/2017/urban-green-spaces-a-brief-foraction-
2017
WHO Report (2017b) Urban green space interventions and health: A review of impacts and
effectiveness. on-line: https://www.euro.who.int/en/health-topics/environment-and-health/
urban-health/publications/2017/urban-green-space-interventions-and-health-a-review-ofimpacts-
and-effectiveness.-full-report-2017
Websites
Bujna warszawa (http://bujnawarszawa.pl/)
greenguerillas.org (http://www.greenguerillas.org/)
grun.wrocenter.pl ( http://grun.wrocenter.pl/wszystkie-drzewa-ekorebelii)
Guerilla Gardening in Opole ( https://ggo335423007.wordpress.com/)
Guerilla Gardening.org (http://www.guerrillagardening.org/)
Guerilla Tree Planting UK (https://www.facebook.com/guerillagreentreeproject/)
http://www.guerillagrafters.net
Lewis miller Design (https://lewismillerdesign.com/)
Nomadic community Gardens (http://nomadicgardens.weebly.com)
The Pothole Gardener (www.thepotholegardener.com)
The Ron Finley Project (https://ronfinley.com/)
Tree Health Care (http://www.treehealthcare.co.uk/)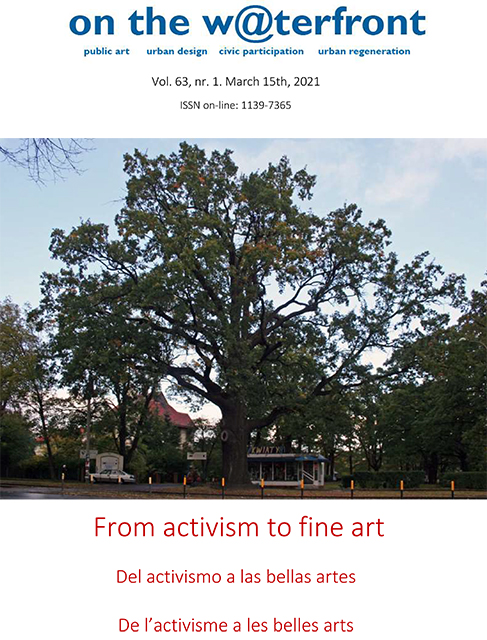 Downloads
How to Cite
Gralińska-Toborek, Agnieszka. 2021. "The Aesthetics of Green Guerrilla. From Activism to Fine Art". On the W@terfront 63 (1):3-29. https://doi.org/10.1344/waterfront2021.63.1.01.
License
The 
 licence allows: Share — copy and redistribute the material in any medium or format and Adapt — remix, transform, and build upon the material for any purpose, even commercially.The licensor cannot revoke these freedoms as long as you follow the license terms. Author's rights are protected by the ISSN 1139-7365. On the w@terfront has no restrictions respect the copyright by the authors and does allow authors to retain the publishing rights without restrictions.
This journal does not apply any type of charge to the authors for the presentation or processing of the articles.