Prosocial behavior in virtual support groups aimed at adult users with different types of disability
Palabras clave:
Disability, Support groups, Internet, Prosocial behavior
Resumen
Introduction

The online support groups for people with disability have become an attractive resource for the exchange of prosocial behavior. The present study identifies the prosocial behavior of a sample of users of the online support groups for people with disabilities according to the type and stage in which the disability was acquired. In addition, to identify significant differences in prosocial behavior according to the gender, age and grade of education.

Method

A total of 162 people with different disabilities (physical, intellectual, visual and auditory) participated. Aged 20 y 59 (M=37.40; SD=7.04). They completed the Prosocialness Scale for Adults (2005).

Results

The results indicated more developed prosocial behavior in participants of online support groups with motor disability, as well as among users with disabilities acquired at birth. In turn, women scored significantly higher than males on all dimensions of prosocial behavior.

Discussion

The results of this study can be useful as they highlight that online support groups could help to design prosocial behavior programs for people with disability.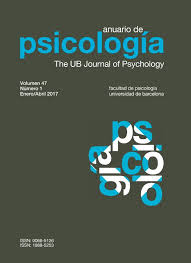 Descargas
Licencia
El/la autor/a que publica en esta revista está de acuerdo con los términos siguientes:
El/la autor/a cede en exclusiva todos los derechos de propiedad intelectual al/la editor/a para todo el mundo y toda la duración de los derechos de propiedad intelectual vigentes aplicables.
El/la editor/a difundirá los textos con todos los derechos reservados.
El/la autor/a puede difundir una copia de sus artículos respetando la política de acceso libre de la revista.