Orthogonalization from X-ray radiographie pictures by 3D reconstruction of the head
Keywords:
imagery, radiographic, cephalometry, threedimensional analysis, orthogonalization, 3D reconstruction, data processing, software, automatically
Abstract
In order to known better the unrolling of the growth, we dispode several radiographies elements which is sometimes difficult to connect with themselves.
Using the computer, may give us the solution to this problem. We describe here a soft which authorizes the 3D reconstruction dating from X-ray radiographic pictures. During step called orthogonalization, the three pictures from the front, from profile and from under, are retalling by the soft. When it's realized, any visible point from two views will automatically be visible in the third view.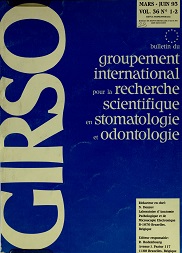 Downloads
Section
Original Research Articles
License
I hereby certify that the authors of the above manuscript have all:
1. Conceived, planned, and performed the work leading to the report, or interpreted the evidence presented, or both;
2. Written the report or reviewed successive versions and shared in their revisions; and
3. Approved the final version.
Further, I certify that:
1. This work has not been published elsewhere and is not under revision in another journal;
2. Humane procedures have been followed in the treatment of experimental animals (if applicable);
3. Investigations in humans was done in accordance with the ethical standards of the responsible committee on human experimentation or with the Helsinki Declaration (if applicable).
4. This paper has been carefully read by a native English speaker who is familiar with the field of work (this applies to authors who are not fluent in English); and
5. The copyright of the article is transferred from the authors to the Bulletin du Groupement International pour la Recherche Scientifique en Stomatologie et Odontologie upon acceptance of the manuscript.