Dialogue Between Latin and Portuguese in the 16th Century
Keywords:
Latin, Portuguese, discoveries, orient, occident
Abstract
In the 16th century, positions defending the use of the Portuguese language in all areas of writing, not only in literary production, emerged. Latin, as a highly scientific and legal language, proved to be inadequate for some spheres of knowledge and especially for the transmission of the information of new realities. The discoveries that came from the East demonstrated the relevance of the exclusive use of the vernacular, the Portuguese language, for such purposes.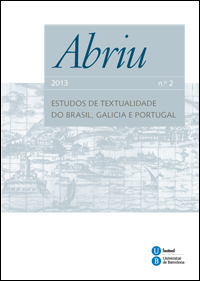 Downloads
How to Cite
Vázquez Diéguez, I. (2013). Dialogue Between Latin and Portuguese in the 16th Century. Abriu: Estudos De Textualidade Do Brasil, Galicia E Portugal, (2), 57–71. https://doi.org/10.1344/105.000002046
License
The Author retains ownership of the copyright of the article, unless the contrary is stated, and all rights not expressly granted in this agreement, including the non-exclusive right to reproduce, distribute, perform, and display the article in print or electronic form, and grants to Abriu: estudos de textualidade do Brasil, Galicia e Portugal the exclusive rights to first publication of the Article. The work will be available under a Creative Commons Attribution-Noncommercial-No Derivative Works license, by which the article must be credited to the Author and the Journal must be credited as first place of publication.