Designing Satisfaction
[Hidden] Technology in the «Cantigas» of Pero Meogo
Keywords:
Galician-Portuguese lyric, cantigas d'amigo, strophic design, leixa-pren, cognition.
Abstract
This paper examines the relationships between cognition and the design of verses, strophes, poems and an entire sequence in the cantigas d'amigo of the 13th century Galician poet Pero Meogo. The brain rewards itself for correctly predicting phenomena. Tension is greatest when a surprise delays a predicted event. In the ninth and last cantiga of Meogo we find unique virtuosity in the handling of leixa-pren and a unique change in rhyme-scheme just before the end of the poem and the sequence. There is, moreover, an extraordinary correspondence between Meogo 9 and a mother-daughter dialogue in a Serbian ballad transcribed in the early 18th century.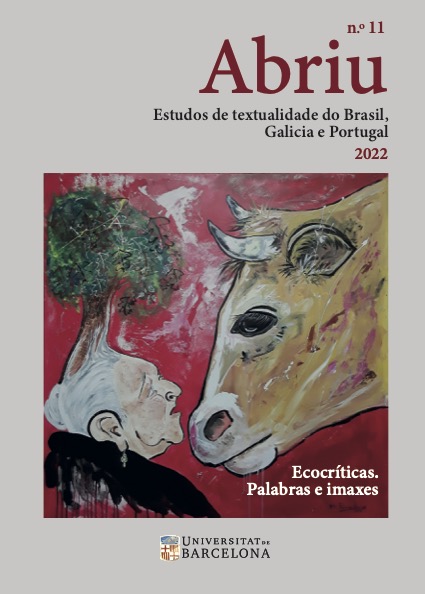 Downloads
How to Cite
Cohen, R. (2022). Designing Satisfaction: [Hidden] Technology in the «Cantigas» of Pero Meogo. Abriu: Estudos De Textualidade Do Brasil, Galicia E Portugal, (11), 221–238. https://doi.org/10.1344/abriu2022.11.9
License
Copyright (c) 2021 Abriu: Textuality Studies on Brazil, Galicia and Portugal
This work is licensed under a Creative Commons Attribution-NonCommercial-NoDerivatives 4.0 International License.
The Author retains ownership of the copyright of the article, unless the contrary is stated, and all rights not expressly granted in this agreement, including the non-exclusive right to reproduce, distribute, perform, and display the article in print or electronic form, and grants to Abriu: estudos de textualidade do Brasil, Galicia e Portugal the exclusive rights to first publication of the Article. The work will be available under a Creative Commons Attribution-Noncommercial-No Derivative Works license, by which the article must be credited to the Author and the Journal must be credited as first place of publication.