An apology for nature
Galician women filmakers in the wake of ecocriticism
Keywords:
women, ecocinema, nature, landscape, female gaze
Abstract
This work tracks the emergency of ecocritical discourses in the disruptive experiences of Novo Cinema Galego [New Galician Cinema] and looks for an alternative way of understanding and relating to non-human nature in the feminine gazes. The strategical alliance of women and nature arises of the similar conditions of oppression that both suffer under anthropocentric and patriarchal structures, obvious in the depiction of conventional cinema: if woman appears as object of desire, nature is represented as passive background. In which way can an ecocinema subvert this condition? What happens when non-human nature takes the leading role? We will try to answer these questions by analysing the landscape in Carla Andrade's work, and contextualising her approach together with those of Ángeles Huerta, Xiana Gómez-Díaz, Diana Gonçalves or Lucía Vilela. All of them propose, from a rich formal and thematic variety, an apology for nature built from the female.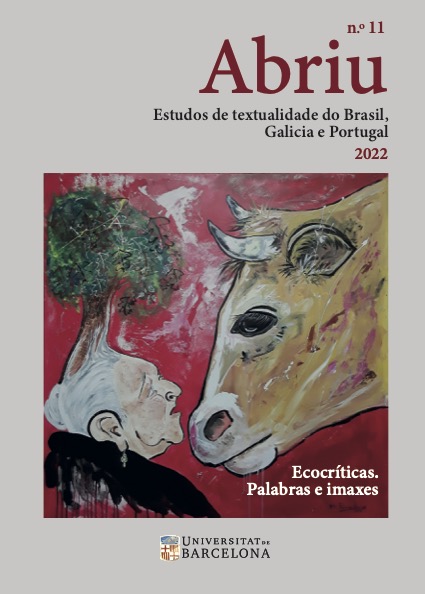 Downloads
How to Cite
Irene Basanta Pin. (2022). An apology for nature: Galician women filmakers in the wake of ecocriticism. Abriu: Estudos De Textualidade Do Brasil, Galicia E Portugal, (11), 131–154. https://doi.org/10.1344/abriu2022.11.5
License
Copyright (c) 2021 Irene Basanta Pin
This work is licensed under a Creative Commons Attribution-NonCommercial-NoDerivatives 4.0 International License.
The Author retains ownership of the copyright of the article, unless the contrary is stated, and all rights not expressly granted in this agreement, including the non-exclusive right to reproduce, distribute, perform, and display the article in print or electronic form, and grants to Abriu: estudos de textualidade do Brasil, Galicia e Portugal the exclusive rights to first publication of the Article. The work will be available under a Creative Commons Attribution-Noncommercial-No Derivative Works license, by which the article must be credited to the Author and the Journal must be credited as first place of publication.