Zé Povinho, a National Portuguese Totem. Study of National Myths and Symbology
Keywords:
Zé Povinho, national stereotype, Portuguese traits, anthropology
Abstract
Zé Povinho, the known figure created by Bordalo, has been always considered a manifestation of Portugal's self-image, in spite of his ridiculing, even degrading, characteristics. This figure is comparable with other collective caricatures appearing in Italian, Czech or German cultures, which, at the same time, have their own particularities, as well as some phsycological contradictions. Despite the time which has passed, and the many changes which have taken place in Portugal, Zé Povinho have retained an unchanged symbolic meaning.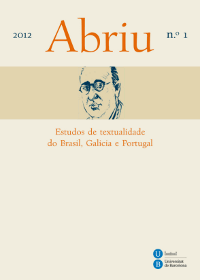 Downloads
License
The Author retains ownership of the copyright of the article, unless the contrary is stated, and all rights not expressly granted in this agreement, including the non-exclusive right to reproduce, distribute, perform, and display the article in print or electronic form, and grants to Abriu: estudos de textualidade do Brasil, Galicia e Portugal the exclusive rights to first publication of the Article. The work will be available under a Creative Commons Attribution-Noncommercial-No Derivative Works license, by which the article must be credited to the Author and the Journal must be credited as first place of publication.