Contemporary Portuguese Feminine Poetry
Keywords:
poetics, identities, contemporaneity
Abstract
While gathering together both central and marginal authors, this paper intends to both redefine the importance of a possible feminine aesthetic in Portugal today, as well as to go back to discussions implied in concepts of identity and belonging. Finally, by enumerating the authors, their works and signalling clear-cut poetical references, we search for new perspectives on poetics and politics: contemporary, aesthetic poetics, inscribed in and through women.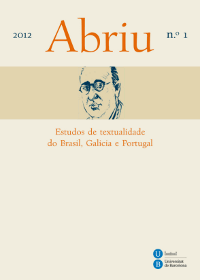 Downloads
How to Cite
Wolkoff, G. G. (2012). Contemporary Portuguese Feminine Poetry. Abriu: Estudos De Textualidade Do Brasil, Galicia E Portugal, (1), 93–114. https://doi.org/10.1344/abriu2012.1.107
License
The Author retains ownership of the copyright of the article, unless the contrary is stated, and all rights not expressly granted in this agreement, including the non-exclusive right to reproduce, distribute, perform, and display the article in print or electronic form, and grants to Abriu: estudos de textualidade do Brasil, Galicia e Portugal the exclusive rights to first publication of the Article. The work will be available under a Creative Commons Attribution-Noncommercial-No Derivative Works license, by which the article must be credited to the Author and the Journal must be credited as first place of publication.