Procesos de evangelización en la Amazonía boliviana. Un drama misionero en tres actos
Palabras clave:
Chacobo, Amazonía boliviana, Cristianismo indígena, Misiones,
Resumen
Se describe primero la «prehistoria» católica del contacto entre los grupos panos de la actual Amazonía boliviana y los misioneros jesuitas, franciscanos y del clero secular. Luego se analiza la continuidad del proceso de evangelización de los chacobos por diversas denominaciones evangélicas, reflejada en tres experiencias misioneras desde 1955 hasta la actualidad. Por último, se proponen algunas reflexiones sobre el problema antropológico de la conversión religiosa.
Citas
Armentia, Nicolás (1887). Navegación del Madre de Dios, 2 vols. La Paz: Biblioteca Boliviana de geografía e historia.
(1890). «Diario del viaje al Madre de Dios hecho por el P. Fr. Nicolás Armentia, en los años de 1884 y 1885, en calidad de Comisionado para explorar el Madre de Dios y su distancia al río Acre y para fundar algunas misiones entre las tribus Araonas». En: Ballivián, M. (comp.), Exploraciones y noticias hidrográficas de los ríos del Norte de Bolivia. La Paz: Imprenta El Comercio, págs. 1-138.
(1976 [1883]). Diario de sus Viajes a las tribus comprendidas entre el Beni y el Madre de Dios y en el arroyo Ivon en los años de 1881 y 1882. La Paz: Instituto Boliviano de Cultura.
Beidelman, Thomas (1982). Colonial Evangelism. A Socio-Historical Study of Missions at the Grassroots. Bloomington, Indiana: Indiana University Press.
Bendix, Reinhard (1970). Max Weber. Buenos Aires: Amorrortu.
Benthall, Jonathan (1982). «The Summer Institute of Linguistics». Royal Anthropological Institute News, Londres, 53, págs. 1-5.
Cliff ord, James (1992). Person and Myth: Maurice Leenhardt in the Melanesian World. Durham: Duke University Press.
Córdoba, Lorena (2012). «Misioneros-patrones e indígenas-siringueros: el caucho entre los chacobos del Beni (siglo xx)». Boletín Americanista, Barcelona, 65, págs. 85- 106.
Córdoba, Lorena; Valenzuela, Pilar, y Villar, Diego (2012). «Pano meridional». En: Crevels, M., y Muysken, P. (eds.). Las lenguas de Bolivia (vol. 2: Amazonía). La Paz: Plural, págs. 27-69. C
órdoba, Lorena, y Villar, Diego (2009). «Etnonimia y relaciones interétnicas entre los panos meridionales (siglos xviii-xx)». Revista Andina, Cuzco, 49, págs. 211-244.
(2013). «Some aspects of marriage alliance among the Chacobo (Bolivian Amazonia) ». En: Heinrich, H., y Grauer, H. (eds.). Wege im Garten der Ethnologie. Caminos en el jardín de la etnología. Sankt Augustin: Akademia Verlag, Collectanea Instituti Anthropos, 46, págs. 177-189.
Descola, Philippe (2000). «Un dialogue entre lexiques. Ethnographies croisées d'un dictionnaire espagnol-shuar». En: Monod Becquelin, A., y Erikson, P. (eds.). Les rituels du dialogue. Promenades ethnolinguistiques en terres amérindiennes.
Nanterre: Société d'Ethnologie, págs. 313-328. Dumont, Louis (1987). Ensayos sobre el individualismo. Una perspectiva antropológica sobre la ideología moderna. Madrid: Alianza.
Durkheim, Émile (1968). Las formas elementales de la vida religiosa. Buenos Aires: Schapire. Erikson, Philippe (1993). «Une nébuleuse compacte: le macro-ensemble pano». L'Homme, París, 126-128, págs. 45-58.
(2002). «Cana, Nabai, Baita y los demás... Comentarios sobre la onomástica chacobo». Scripta Ethnologica, Buenos Aires, 23, págs. 59-74.
Evans-Pritchard, Edward (1969). «The Perils of Translation». New Blackfriars, Edimburgo, 50 (595), págs. 813-815.
Geest, Sjaak van der (1990), «Anthropologists and Missionaries: Brothers Under the Skin», Man (n.s.), Londres, 25 (4), págs. 588-601.
Grasserie, Raoul de la (1890). «De la famille linguistique Pano». Compte-rendu de la Septième Session du Congrès International des Américanistes, 1888, Berlín: W. H. Kuhl, págs. 438-462.
Hanke, Wanda (1956). «Los indios Chacobo del Río Benicito». Trabajos y Conferencias del Seminario de Estudios Americanistas, Madrid, vol. 2, núm. 1, págs. 11-31.
Hertz, Robert (1996). Sin and Expiation in Primitive Societies. Oxford: British Centre for Durkheimian Studies.
Hvalkof, Soren, y Aaby, Peter (eds.) (1981). Is God an American? An Anthropological Perspective on the Missionary Work of the Summer Institute of Linguistics. Copenhague: IWGIA / Survival International.
Kelm, Heinz (1972). «Chácobo 1970. Eine Restgruppe der Südost-Pano im Orient Boliviens ». Tribus, Stuttgart, 21, págs. 129-246.
Kensinger, Kenneth (1995). How Real People Ought to Live. The Cashinahua of Eastern Peru. Illinois: Waweland Press.
La Voz del Beni (1962). «El Instituto Lingüístico de Verano». Riberalta, cuarta semana de febrero de 1962, pág. 4.
Miller, Elmer (1981). «Great was the Company of the Preachers: The word of missionaries and the word of anthropologists». Anthropological Quarterly, Washington, vol. 54, núm. 3, págs. 125-133.
Nock, Arthur (1933). Conversion: The Old and the New in Religion from Alexander the Great to Augustine of Hippo. Oxford: Oxford University Press.
Nordenskiöld, Erland (2003 [1922]). Indios y blancos en el nordeste de Bolivia. La Paz: APCOB.
Pels, Peter (1990). «Anthropology and mission: towards a historical analysis of professional identity». En: Bonsen, R.; Miedema, J., y Maarks, H. (eds.). The Ambiguity of Rapprochement. Reflections of Anthropologists on their Controversial Relationship with Missionaries. Nijmegen: Focaal, págs. 77-100.
Pereira, Luis A. (1981), «Go forth to every part of the world and make all nations my disciple. The Bolivian instance». En: Hvalkof, S., y Aaby, P. (eds.). Is God an American? An Anthropological Perspective on the Missionary Work of the Summer Institute of Linguistics. Copenhague: IWGIA / Survival International, págs. 109- 119.
Priest, Robert (2001). «Missionary positions: christian, modernist, postmodernist». Current Anthropology, Chicago, vol. 42, núm. 1, págs. 29-68.
Prost, Gilbert (1962). «Signaling of transitive and intransitive in Chacobo (Pano)». International Journal of American Linguistics, Chicago, vol. 28, núm. 2, págs. 108-118.
(1965). «Chacobo». En: Matteson, E. (ed.). Bolivian Grammars, 1. México: Instituto Lingüístico de Verano / University of Oklahoma, págs. 285-359.
(1967). «Phonemes of the Chácobo language». Linguistics, La Haya, 35, págs. 61- 65.
(1983). Chácobo: Society of Equality. Tesis de maestría. Gainesville: University of Florida.
(2003). «The Chacobo Indians of the Amazon: Discovering a meta-culture of Meaning and Life». Journal of Interdisciplinary Studies, Pasadena, vol. 15, núm. 2, págs. 139-164.
(s/f). Microfilms. Biblioteca Etnológica de la Universidad Católica Boliviana, Cochabamba.
Prost, Marian (1970). Costumbres, habilidades y cuadro de la vida humana entre los Chacobo. Riberalta: Instituto Lingüístico de Verano y Ministerio de Educación y Cultura de Bolivia.
Rivet, Paul (1910). «Sur quelques dialectes panos peu connus». Journal de la Société des Américanistes, París, vol. 7, núm. 1, págs. 221-242.
Robbins, Joel; Schieff elin, Bambi, y Vilaça, Aparecida (2014). «Evangelical conversion and the transformation of the self in Amazonia and Melanesia: Christianity and the revival of anthropological comparison». Comparative Studies in Society and History, Cambridge, vol. 56, núm. 3, págs. 559-590.
Villar, Diego (2004). «La noción de yoshini entre los chacobo de Bolivia: una interpretación ». En: Cipolletti, M. S. (ed.). Los mundos de abajo y los mundos de arriba: individuo y sociedad en las tierras bajas, en los Andes y más allá. Quito: Abya-Yala, págs. 165-201.
(2007). «Algunos problemas de interpretación de la religión chané». Bulletin de l'Institut Français d'Études Andines, Lima, vol. 36, núm. 3, págs. 393-405.
(2013a). «Modelos de liderazgo amerindio: una crítica etnológica». En: Sendón, P., y Villar, D. (eds.). Al pie de los Andes. Estudios de etnología, arqueología e historia. Cochabamba: Itinerarios/ILAMIS (Scripta Autochtona, 11), págs. 11-31.
(2013b). «De qué ríen los chacobos». Anthropos, Sankt Augustin, vol. 108, núm. 2, págs. 481-494.
Villar, Diego; Córdoba, Lorena, y Combès, Isabelle (2009). La reducción imposible. Las expediciones del padre Negrete a los pacaguaras (1795-1800). Cochabamba: Nómadas/ILAMIS (Scripta Autochtona, 2).
(2010). «Un documento sobre los panos meridionales en el Mojos jesuítico (1753)». Revista Andina, Cuzco, 50, págs. 231-245.
Viveiros de Castro, Eduardo (2002). «O mármore e a murta: sobre a inconstância da alma selvagem». En: Viveiros de Castro, E. A inconstância da alma selvagem e outros ensaios de antropologia. San Pablo: Cosac & Naify, págs. 183-264.
Yengoyan, Aram (2003). «Lyotard and Wittgenstein and the question of translation». En: Rubel, P., y Rosman, A. (eds.). Translating Cultures Perspectives on Translation and Anthropology. Oxford / Nueva York: Berg, págs. 25-43.
Zingg, Philipp (1994). «Los Chácobo: un pueblo nativo frente al desafío de la civilización. Conferencias dictadas en varias ciudades de Suiza acerca de la labor de la Misión Evangélica Suiza de Bolivia». En: Zingg, P. Desarrollo de comunidad y labor misionera en grupos étnicos. Riberalta: Misión Evangélica Suiza, págs. 7-88.
(1998). Diccionario Chacobo-Castellano y Castellano-Chacobo. La Paz: Ministerio de Desarrollo Sostenible y Planificación-Viceministerio de Asuntos Indígenas y Pueblos Originarios.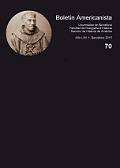 Descargas
Licencia
El/la autor/a que publica en esta revista está de acuerdo con los términos siguientes.
a. El/la autor/a conserva los derechos de autoría y otorga a la revista el derecho de primera publicación de la obra.
b. Los textos se difundirán con la licencia de reconocimiento de Creative Commons que permite compartir la obra con terceros, siempre que éstos reconozcan su autoría, su publicación inicial en esta revista y las condiciones de la licencia.