Diversificación cultural y dualización urbana: micropublics, sociabilidad y desigualdad en la ciudad de Zaragoza
Palabras clave:
Desigualdad, Sociabilidad, Multiculturalidad, Segregación
Resumen
¿Cómo se articulan los discursos en torno a la diversidad cultural y las relaciones vecinales en Zaragoza? Las ciudades medias afrontan un ciclo de segregación socioespacial sostenido con relatos sobre "nuevos conflictos culturales"; al tiempo que espacios y situaciones potencialmente favorables al contacto social y la participación ganan visibilidad. Los resultados muestran la relación entre las percepciones sobre el espacio y variables como nivel de ingresos, lugar de procedencia o ubicación espacial. Por un lado, los interlocutores socialmente más activos atribuyen a las autoridades locales la responsabilidad en la mejora de la convivencia. Por otro, la participación informal de la población joven prioriza la creación de espacios para el encuentro "desde abajo", que no descuiden la desigualdad como factor determinante. Esa es la clave que permanece en permanente tensión con la multiculturalidad, vinculando la definición de convivencia al reduccionismo de la coexistencia y los sesgos securitarios que de ellos derivan.
Citas
A Zofra. 2013. De la euforia del ladrillo a la crisis. Zaragoza, puesta a producir en el último ciclo capitalista. Zaragoza: A Zofra.
Arbaci, Sonia. 2008. "(Re)Viewing Ethnic Residential Segregation in Southern European Cities: Housing and Urban Regimes as Mechanisms of Marginalisation". Housing Studies 23(4): 589-613. https://doi.org/10.1080/02673030802117050
Arbaci, Sonia. 2019. Paradoxes of segregation: Housing systems, welfare regimes and ethnic residential change in Southern European cities. Londres: John Wiley & Sons.
Baratta, Alessandro. 2001. "El concepto actual de seguridad en Europa". RCSP 8: 17-30.
Bellet, Carme y Alonso, Pilar. 2016. "Proyectos urbanos incompletos. Vacíos urbanos en la Zaragoza post-ave". Boletín de la Asociación de Geógrafos Españoles 70: 285-304. https://doi.org/10.21138/bage.2172
Berg, Mette Louise, Gidley, Ben y Krausova, Anna. 2018. "Welfare micropublics and inequality: urban super-diversity in a time of Austerity". Ethnic and racial studies 42(15): 2723-42. https://doi.org/10.1080/01419870.2018.1557728
Betrán, Ramón. 2002. "De aquellos barros, estos lodos: la política de vivienda en la España franquista y postfranquista". Acciones e investigaciones sociales 16: 25-67.
Blokland, Talja. 2009. "Celebrating Local Histories and Defining Neighbourhood Communities". Urban Studies 46(8): 1593-1610.
https://doi.org/10.1177%2F0042098009105499
Blokland, Talja. 2017. Community as urban practice. Cambridge: Polity Press.
Castro, Rodrigo. 2009. "La ciudad apestada. Neoliberalismo y postpanóptico". Revista de ciencia política 29(1): 165-183.
https://dx.doi.org/10.4067/S0718-090X2009000100009
Creswell, John W. y Poth, Cheryl N. 2013. Qualitative inquiry and research design. Choosing among five approaches. London: Sage.
Delgado, Manuel. 2005. "Círculos virtuosos. Nuevos lenguajes para la exclusión social". En Exclusión social, exclusión educativa : lógicas contemporáneas, coordinado por José García Molina, 31-46. 2005. Xátiva: Instituto Paulo Freire.
Delgado, Manuel. 2013. El "discapacitado cultural": una nueva figura de y para la exclusión. Cuadernos de pedagogía 326: 69-70.
Delgado, Manuel y Sáez, Juan. 2013. "Miradas sobre la exclusión social". En Exclusiones. Discursos, políticas, profesiones, coordinado por José García Molina, 51-70. Barcelona: UOC.
Dell'Umbria, Alessi. 2006. C'est de la racaille? Eh, bien, j'en suis!. Marsella: L'Échappée.
Donzelot, Jacques. 2009. La ville à trois vitesses et autres essais. Paris: Editions de la Villette
England, Marcia R. y Simon, Stephanie. 2010. "Scary cities: urban geographies of fear, difference and belonging". Social & Cultural Geography 11: 201-207.
https://doi.org/10.1080/14649361003650722
Escolano, Severino, López, Carlos y Pueyo, Ángel. 2018. "Urbanismo neoliberal y fragmentación urbana: el caso de Zaragoza (España) en los primeros quince años del siglo XXI". EURE 44(132): 185-212. http://dx.doi.org/10.4067/s0250-71612018000200185
Fourot, Aude-Claire, Healy, Aisling, y Flamant, Anouk. 2021. "French participation in transnational migration networks: understanding city (dis) involvement and 'passivism'". Local Government Studies. Special issue: city network activism and the governance of migration: 1-23.
https://doi.org/10.1080/03003930.2020.1857246
Fyfe, Nicholas, Bannister, Jon y Kearns, Ade. 2006. "(In)civility and the city". Urban Studies 42(5/6): 853-61. https://doi.org/10.1080%2F00420980600676063
Garcés, Chesús. 2017. Baitico. Memoria de la valle Bielsa. Zaragoza: Gara d'Edicions.
Gidley, Ben. 2013. "Landscapes of belonging, portraits of life: researching everyday multiculture in an inner city estate". Identities 20(4): 361-76. https://doi.org/10.1080/1070289X.2013.822381
Gilroy, Paul. 2004. After Empire: Melancholia or Convivial Culture?. London: Routledge.
Giménez, Carlos 2005. "Convivencia: Conceptualización y sugerencias para la praxis". Puntos de Vista 1: 7-31.
Giménez, Carlos. 2012. Convivencia social e intercultural en territorios de alta diversidad. Encuesta 2011 sobre convivencia intercultural en el ámbito local. Barcelona: Obra Social La Caixa.
Giménez, Carlos y Gómez, Paloma. 2015. "Conflictividad y migración: dimensiones para el análisis y claves para su regulación". En Análisis, prevención y transformación de conflictos en contextos de inmigración, coordinado por C. Giménez, y P. Gómez, 13-32. Madrid: UAM.
Gimeno, Chabier. 2017. "Retos transfronterizos de la intervención comunitaria en barrios multiculturales". Anduli 16: 53-72. https://doi.org/10.12795/anduli.2017.i16.04
Gimeno, Chabier. 2018. "Convivencia i nous processos comunitaris al barri de San Pablo". En Barris i ciutats en clau pluricultural, coordinado por A. Moncusí, F. Torres y H. Fioravanti, 271-289. València: Neopatria.
Gimeno, Chabier y Montañés, Miguel. 2017. "Planificación y desigualdad en la ciudad neoliberal: geografías de las clases populares". En Políticas públicas y sociales: globalización, desigualdad y nuevas insurgencias, coordinado por A. Serrano, 69-86. Zaragoza: Prensas Universitarias de Zaragoza.
Gimeno, Chabier y Jiménez, Daniel. 2020. "Intervención comunitaria en barrios populares: tensiones entre actores sociales". Trabajo Social Global 10(18): 3-22. https://doi.org/10.30827/tsg-gsw.v10i18.9415
Gómez, Juan David, ed. 2013. Evaluación del Plan Integral del Casco Histórico 2005- 2012. Diagnóstico del barrio y propuestas de futuro. Zaragoza: Ayuntamiento de Zaragoza.
Hoekstra, Myrte. 2015. "Diverse cities and good citizenship: how local governments in the Netherlands recast National integration discourse". Ethnic and Racial Studies: 38(10): 1798-841. https://doi.org/10.1080/01419870.2015.1015585
Kaufmann, Vincent, Schuler, Martin, Crevoisier, Olivier y Rossel, Pierre. 2003. "Mobilité et motilité. De l'intention à l'action". Cahiers du LASUR 4. Lausanne: EPFL.
Kaufmann, Vincent y Widmer, Eric D. 2005. "L'acquisition de la motilité au sein des familles – État de la question et hypothèses de Recherche". Espaces et Sociétés 120-21: 199-217.
Kápstein, Paula. 2010. "Vulnerabilidad y periferia interior". Cuadernos de investigación urbanística 71: 7-114.
Katz, Michael B. ed. 2018. The 'Underclass' debate: Views from History. Oxfordshire: Princeton University Press.
Koutrolikou, Penny-Panagiota. 2012. "Spatialities of Ethnocultural Relations in Multicultural East London: Discourses of Interaction and Social Mix". Urban Studies 49(10): 2049-66. https://doi.org/10.1177%2F0042098011422569
Milliot, Virginie. 2017. "Les épreuves morales de l'urbanité. Les riverains face aux naufragés de la mondialisation". Urbanités [en línea] 8. https://hal.archives-ouvertes.fr/hal-01610269
Monclús, Javier y Bambó, Raimundo, eds. 2018. Regeneración urbana (V). Propuestas para el barrio de Las Fuentes. Zaragoza: Sociedad Municipal Zaragoza Vivienda.
Padilla, Beatriz, Azevedo, Joana y Olmos, Antonia. 2019. "Superdiversity and conviviality: exploring frameworks for doing ethnography in Southern European intercultural cities". Ethnic and Racial Studies 38(4): 621-635. https://doi.org/10.1080/01419870.2015.980294
Rosa, Hartmut. 2019. Remedio a la aceleración. Ensayos sobre la resonancia. Barcelona: Ned ediciones.
Sabaté, Maria. 2018. "Migrants' minority‐language newspeakerism: The pervasiveness of nation‐state monolingual regimes in transnational contexts". Journal of Sociolinguistics 22: 5-28. https://doi.org/10.1111/josl.12270
Sorando, Daniel y Leal, Jesús. 2019. "Distantes y desiguales: el declive de la mezcla social en Barcelona y Madrid". Revista Española de Investigaciones Sociológicas 167: 125-48. https://doi.org/10.5477/cis/reis.167.125
Sorando, Daniel y Gimeno, Chabier. 2021. "Efectos del abandono de las políticas públicas de vivienda en barrios populares y multiculturales". Ciudad y Territorio. Estudios Territoriales 53(M): 119-38. https://doi.org/10.37230/cytet.2021.m21.07
Tello, Rosa, ed. 2016. Jean-Pierre Garnier. Un geógrafo urbano a sociólogo urbano a contracorriente. Barcelona. Icaria.
Vertovec, Steven. 2007. New complexities of cohesion in Britain: super-diversity, transnationalism and civil-integration. London: Department for Communities and Local Government.
Wacquant, Loïc, Slater, Tom y Borges, Virgilio. 2014. "Territorial stigmatization in action". Environment and Planning A 46: 1270-80. https://doi.org/10.1068%2Fa4606ge
Werbner, Pnina. 2015. "The dialectics of urban cosmopolitanism: between tolerance and intolerance in cities of strangers". Identities. Global Studies in Culture and Power 22(5):569-87. https://doi.org/10.1080/1070289X.2014.975712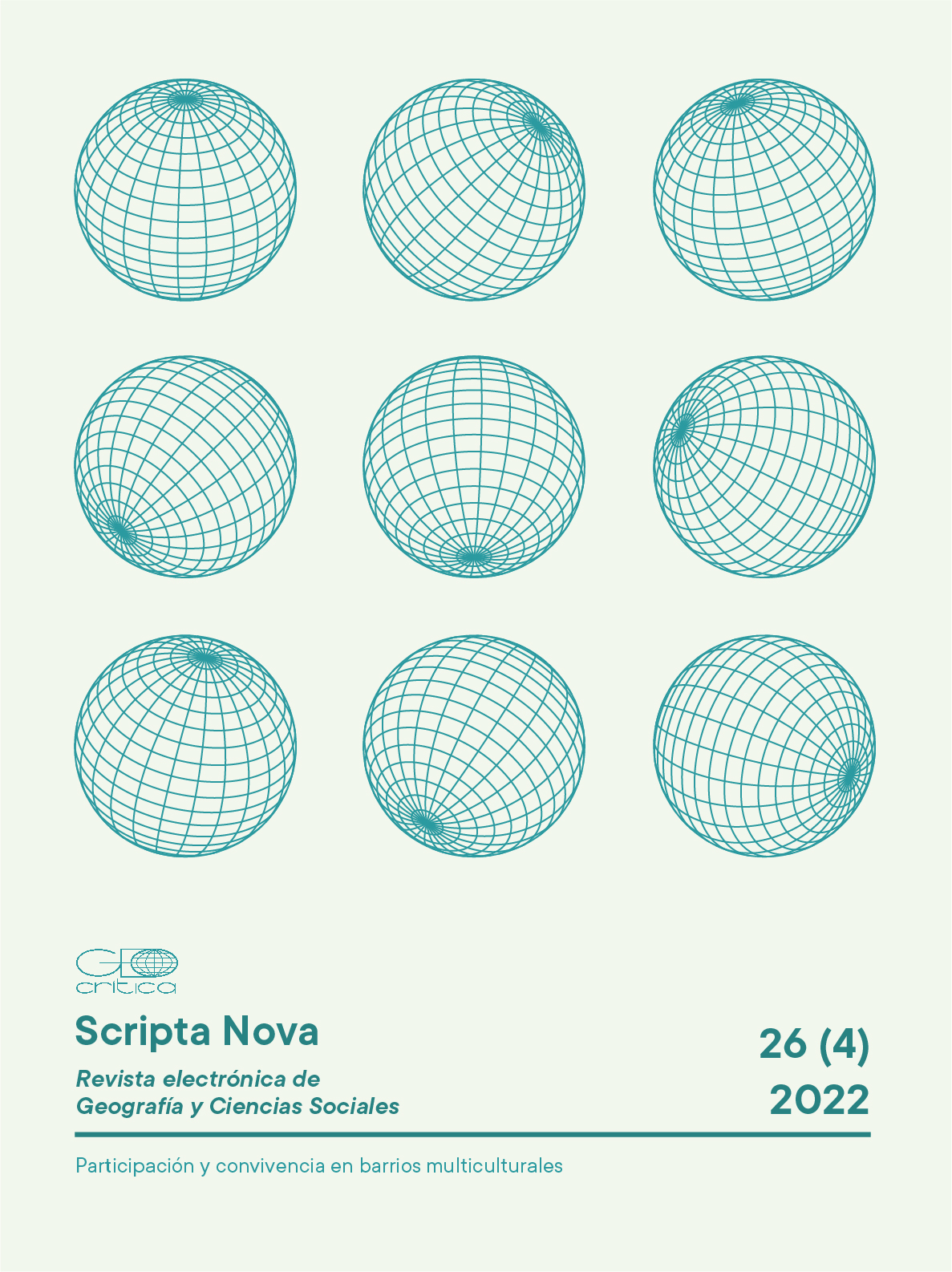 Descargas
Sección
Dosier monográfico
Licencia
Derechos de autor 2023 Chabier Gimeno Monterde, Daniel Jiménez Franco
Esta obra está bajo una licencia internacional Creative Commons Atribución 4.0.
Los autores que publican en esta revista están de acuerdo con los siguientes términos:
Los autores conservan los derechos de autoría y otorgan a la revista el derecho de primera publicación, cin la obra disponible simultáneamente bajo una Licència de atribucióm de Creative Commons que permote compartir la obra con terceros, siempre que estos reconozcan la autoría y la publicación inicial en esta revista.
Los autores son libres de realizar acuerdos contractuales adicionales independientes para la distribución no exclusiva de la versió de la obra publicada en la revista (com por ejemplo la publicación en un repositorio institucional o en un libro), siempre que se reconozca la publicación inicial en esta revista.