El locus amoneus de l'eremita: «el Arte y moral Philosofia» de les col·leccions de pintura de paisatge a inicis del segle XVII a Madrid
Paraules clau:
pintura de paisatge, col·leccionisme, poesia, percepcions culturals de la naturalesa, jardins, Juan de Fonseca y Figueroa, Vicente Carducho, Pedro Orrente, Lope de Vega, Justus Lipsius.
Resum
Les pintures de paisatge amb figures o esdeveniments religiosos eren un element important de moltes de les col·leccions de pintures que es crearen durant el segle XVII a Espanya. La col·lecció de Juan de Fonseca y Figueroa és un exemple clau per a l'estudi d'aquest subgènere i ofereix un contrast en relació amb casos més cèlebres com la galeria de pintures de paisatge amb anacoretes que es creà per al Palau del Buen Retiro amb el mecenatge de Felip IV. L'objectiu d'aquest estudi és explorar el significat d'aquest subgènere dins del context dels interessos literaris de Fonseca, així com a través d'una lectura aprofundida de la discussió de la percepció i representació del paisatge natural en els Diálogos de la pintura de Vicente Carducho.
Referències
ALPERS, Svetlana, The decoration of the Torre de la Parada, Corpus Rubenianum, vol. 9, Brussels, Arcade Press, 1971.
ANDREWS, Malcom, Landscape and Western Art, Oxford, Oxford University Press, 1999.
ANTONIO, Nicolás, Bibliotheca Hispana nova: sive hispanorum scriptorum qui ab anno MD. ad MDCLXXXIV. floruere notitia, Madrid, Visor, 1996.
ARMAS, Frederick A. De «Lope de Vega and Titian», Comparative Literature, vol. 30, No. 4, 1978, p. 338- 352.
BLANCO MOREL, Mercedes, «Lienzo de Flandes: las soledades y el paisaje pictórico», Actas del IV Congreso Internacional de la Asociación Internacional Siglo de Oro (AISO), Alcalá de Henares, 22-27 July 1996), vol. 1, 1998, p. 263- 274.
BLANCO MOREL, Mercedes, «Góngora et la peinture», Locus amoenus, n. 7, 2004, p. 197-208.
BOSCH BALLBONA, Joan, «Paul Bril, Wenzel Cobergher, Jacob Frankaert I, Willem I van Nieulandt y los ermitaños de Pedro de Toledo,V marqués de Villafranca», Locvs Amoenvs, 9, 2007-2008, p. 127-154.
BROWN, Jonathan, Velazquez: Painter and Courtier, New Haven, Yale University Press, 1986.
BROWN, Jonathan & ELLIOTT, J. H., «The Marquis of Castel Rodrigo and the Landscape Paintings in the Buen Retiro», The Burlington Magazine, 129, 1987, p. 104-107.
BROWN, Jonathan ELLIOTT, & J. H., A Palace for a King: The Buen Retiro and the Court of Philip IV, New Haven & London, Yale University Press, 2003, p. 129-139.
BURKE, Marcus B. & CHERRY, Peter Collections of paintings in Madrid, 1601-1755, Los Angeles, Provenance Index of the Getty Information Institute, c. 1997.
BUTRON, Juan de, Discursos apologeticos en que se defiende la ingenuidad del arte de la pintura: que es liberal, de todos derechos, no inferior a los siete que comunmente se reciben, Madrid, Luis Sánchez, 1626.
CACHO CASAL, Marta P., Francisco Pacheco y su Libro de Retratos, Madrid, Marcial Pons, 2011.
CAPPELLETTI, Francesca, «El paisaje nórdico en Roma en las primeres dècades del siglo XVII. De Bril a Van Swanevelt y los pintores italianos», Roma: naturaleza e ideal: paisajes 1600-1650, coord. de A. Úbeda de los Cobos, S. Loire, Madrid, Museo Nacional del Prado, 2011, p. 31-43.
CARDUCHO,Vicente, Diálogos de la Pintura, Francisco Calvo Serraller (ed.), Madrid, Turner, 1979.
CEÁN BERMÚDEZ, J. A. Diccionario histórico de los más ilustres profesores de las Bellas Artes en España, vol. 3, Madrid, Academia de Bellas Artes de San Fernando, 1965, p. 273-315.
CÉSPEDES, Pablo de, Escritos de Pablo de Céspedes, Jesús Rubio Lapaz (ed.), Córdoba, Diputación de Córdoba, 1998.
Corpus Velazqueño: documentos y textos, Madrid, Ministerio de educación, cultura y deporte, Dirección general de bellas artes y bienes culturales, 2000.
DIXON HUN, John (ed.), The pastoral landscape, Washington, National Gallery of Art, 1992.
ELLIOTT, J. H., The Count-Duke of Olivares: A Statesman in an Age of Decline, New Haven & London, Yale University Press, 1989.
Elogios al Palacio Real del Buen Retiro; escritos por algunos ingenios de España; recogidos por don Diego de Covarruvias i Leyva, Madrid, Imprenta del Reyno, 1635.
GAGE, Frances, «Exercise for Mind and Body: Giulio Mancini, Collecting, and the Beholding of Landscape Painting in the Seventeenth Century», Renaissance Quarterly, vol. 61, n. 4, 2008, p. 1167-1207.
GOMBRICH, Ernst, «Renaissance artistic theory and the development of landscape painting», Gazette des Beaux-Arts, 41, p. 335- 360.
JONES, Pamela M., «Federico Borromeo as a Patron of Landscapes and Still Lifes: Christian Optimism in Italy ca. 1600», The Art Bulletin, vol. 70, n. 2, 1988, p. 261-272.
JONES, Pamela M., «Two Newly-Discovered Hermit Landscapes by Paul Bril», The Burlington Magazine, vol. 130, n. 1018, 1988, p. 32- 34.
KUBLER, George, «Vicente Carducho's Allegories of Painting», The Art Bulletin, vol. 47, n. 4 Dec. 1965, p. 439-445.
LING, Roger, «Studius and the Beginnings of Roman Landscape Painting», Journal of Roman Studies, 67, 1977, p. 1-16.
LIPSIUS, Justus, Libro de Constancia, Seville, Matias Clavijo, 1616.
LLEÓ CAÑAL, Vicente, «El Circulo Sevillano de Velázquez», Poder y Saber: Bibliotecas y bibliofilia en la época del Conde-Duque de Olivares, ed. O. Noble-Wood, J. Roe, Madrid, Centro de Estudios de Europa Hispánica, 2011, p. 47-69.
LOPE DE VEGA, Félix, La Filomena: Con otras diversas rimas, prosas y versos, Barcelona, Sebastian de Cormellas, 1621.
LOPE DE VEGA, Félix, Laurel de Apolo con otras rimas, Madrid, Juan González, 1630.
LOPE DE VEGA, Félix, Coleccion de las obras sueltas assi en prosa, como en verso, Madrid, Antonio de Sancha, 1776.
LÓPEZ NAVÍO, José, «Velázquez tasa los cuadros de su protector, don Juan de Fonseca», Archivo Español de Arte, 34, 1961, p. 53-84.
LÓPEZ NAVÍO, José, «Don Juan de Fonseca, Canónigo maestrescuela de Sevilla», Archivo Hispalense, 126-127, 1964, p. 83-126.
LOVETT, Babriel H., «The Hermit in Spanish Drama before Lope de Vega», Modern Language Journal, vol. 35, n. 5, 1951, p. 340-355.
MAMBRO SANTOS, Ricardo De, Arcadie del Vera: arte e teoria nella Roma del Seicento, Sant'Oreste, Apeiron, 2001, p. 196-197.
MATEOS, Juan, Origen y dignidad de la caza Madrid, Francisco Martínez, 1634.
MAURO, Ida, «Le acquisizioni di opere d'arte di Gaspar de Bracamonte y Guzmán, conte di Peñaranda e viceré di Napoli (1659-1664)», Locvs Amoenvs, 9, 2007-2008, p. 155-169.
MENA MARQUÉS, Manuela B., «El Aguador de Velázquez o una meditación sobre la cultura clásica: "Diógenes y los hijos de Xeníades"», Archivo español de arte, 288, 1999, p. 91-413.
PACHECO, Francisco, Arte de la pintura, Madrid, Cátedra, 1990.
PALEOTTI, Gabriel, «Discorso intorno alle imagine sacre e profane», P. Barocci (ed.) Trattati d'arte del cinquecento, vol. II, Bari, 1961.
PANOFSKY, Erwin, Idea: A Concept in Art Theory, Columbia, University of South Carolina Press, 1968.
PELLICER, José de, Lecciones Solemnes a las obras de Don Luis de Góngora, Madrid, Imprenta del Reino, 1630.
PELLICER, José, Anfiteatro de Felipe el Grande, Madrid, Juan Gonzalez, 1631.
PORTÚS PÉREZ, Javier, «Indecencia, mortificación y modos de ver en la pintura del Siglo de Oro», Espacio, tiempo y forma. Serie VII, Historia del arte, No. 8, 1995, p. 55-88.
PORTÚS PÉREZ, Javier, «Fray Hortensio Paravicino: la Academia de San Lucas, las pinturas lascivas y el arte de mirar», Espacio, tiempo y forma. Serie VII, Historia del arte, No. 9, 1996, p. 77-106.
RAMÍREZ, A., ed., Epistolario de Justo Lipsio y los españoles, 1577-1606, Madrid, Castalia, 1966.
RIOJA, Francisco de, Poesía, edició de Begoña López Bueno, Madrid, Cátedra, 1984.
ROE, Jeremy, «Looking at Velázquez through the writings of Francisco de Rioja», Antes y después del "Quijote": en el cincuentenario de la Asociación de Hispanistas de Gran Bretaña e Irlanda, R. Archer (ed.), Valencia, Generalitat Valenciana, Biblioteca Valencia, 2005, p. 213-222.
ROE, Jeremy, «New Documents on the Scholarship of Juan de Fonseca Y Figueroa (1585-1627): Arabist and Correspondent with Isaac Casaubon», Humanistica Lovaniensia: journal of neo-latin studies, n. 61, 2012, p. 371-388.
RUIZ MANERO, José María, «Obras y noticias de Girolamo Muziano, Marcello Venusti y Scipione Pulzone en España», Archivo español de arte, vol. 68, n. 272, 1995, p. 365-380.
SAMSON, Alexander, «Locus amoenus: gardens and horticulture in the Renaissance», Renaissance Studies, vol. 25 n. 1, p. 1-23.
SÁNCHEZ CANTÓN, F. J., «La librería de Velázquez», Homenaje ofrecido a Menéndez Pidal, III, Madrid, 1925, p. 379-405.
SHAKESHAFT, Paul, «Elsheimer and G. B. Crescenzi», The Burlington Magazine, 123, 1981, p. 550-551.
TOSINI, Patrizia, Girolamo Muziano : 1532- 1592 : dalla maniera alla natura, Roma, U. Bozzi, 2008.
ÚBEDA DE LOS COBOS, Andrés, «Las pinturas de paisaje para el palacio del Buen Retiro de Madrid», Roma: naturaleza e ideal: paisajes, 1600-1650, Madrid, Museo Nacional del Prado, 2011, p. 69-77.
UNGER, Daniel M., «The yearning for the Holy Land: Agucchi's program for Erminia and the Shepherds», Word & Image: A Journal of Verbal/Visual Enquiry, 24, 2008, 367-377.
VOSTERS, Simon Anselmus, «Lope de Vega y Rubens», Lope de Vega y los orígenes del teatro español, actas del I Congreso Internacional sobre Lope de Vega, 1981, p. 733- 744.
WHITFIELD, Clovis, «A Programme for Erminia and the Shepherds by G. B. Agucchi», Storia dell'Arte, 19, 1973, 218-220.
WOODS, M. J., The Poet and the Natural World in the Age of Góngora, Oxford, Oxford University Press, 1978.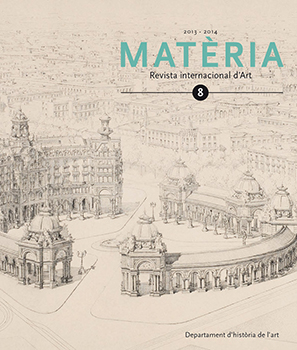 Descàrregues
Llicència
L'autor/a que publica en aquesta revista està d'acord amb els termes següents:
L'autor/a conserva els drets d'autoria i atorga a la revista el dret de primera publicació de l'obra.




Des del número 13 (2018) de la revista, els textos es difondran amb la llicència de Reconeixement-NoComercial-SenseObraDerivada de Creative Commons, la qual permet compartir l'obra amb tercers, sempre que en reconeguin l'autoria, la publicació inicial en aquesta revista i les condicions de la llicència.