The "Qatsi" trilogy
An alalysis of the balance of life from a posthumanism perspective and its reflection on the realit of Galicia and Portugal
Keywords:
Koyaanisqatsi, Qatsi trilogy, Godfrey Reggio, posthumanism, documentary, experimental cinema, ecocinema
Abstract
The Qatsi trilogy, directed by Godfrey Reggio throughout the last three decades of the twentieth century and formed by Koyaanisqatsi (1982), Powaqqatsi (1988) and Naqoyqatsi (2002), created a new paradigm in how we film our environment and our relationship with it, assuming a posthumanist logic in its approach. Through technical and narrative experimentation, modifying our perception of time and space, it gives us a better understanding of the changes taking place in the world and a consideration, without using any words, of the path we should be taking both globally and locally, creating a narrative that relates the human footprint, technological evolution, and the relationship to ecology. This article examines those considerations and their true relationship to posthumanism, while at the same time considering world comprehension logics with regard to nature both in Galicia and in Portugal during the last half century.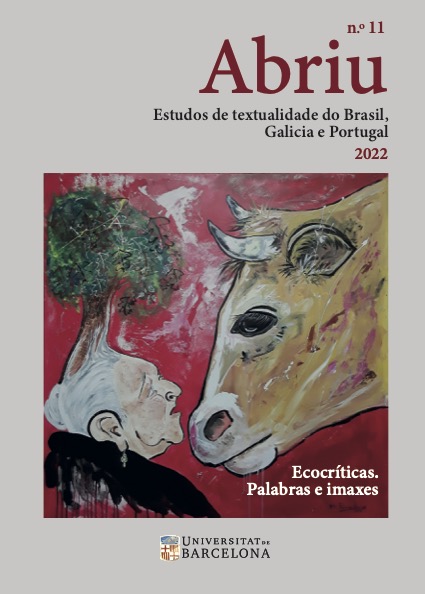 Downloads
How to Cite
Froiz Casal, L. E. (2022). The "Qatsi" trilogy: An alalysis of the balance of life from a posthumanism perspective and its reflection on the realit of Galicia and Portugal. Abriu: Estudos De Textualidade Do Brasil, Galicia E Portugal, (11), 155–172. https://doi.org/10.1344/abriu2022.11.6
License
Copyright (c) 2021 Luis E. Froiz Casal
This work is licensed under a Creative Commons Attribution-NonCommercial-NoDerivatives 4.0 International License.
The Author retains ownership of the copyright of the article, unless the contrary is stated, and all rights not expressly granted in this agreement, including the non-exclusive right to reproduce, distribute, perform, and display the article in print or electronic form, and grants to Abriu: estudos de textualidade do Brasil, Galicia e Portugal the exclusive rights to first publication of the Article. The work will be available under a Creative Commons Attribution-Noncommercial-No Derivative Works license, by which the article must be credited to the Author and the Journal must be credited as first place of publication.