Patrícia Melo. "Favela Novel" and Crime Novel. Genre/Gender
Keywords:
crime novel, favela novel, Patrícia Melo, violence, Brazilian narrative, gender
Abstract
This article reflects upon two questions: is the "favela novel" a crime novel? And, is it possible to detect aspects of gender in Patrícia Melo's "favela novels"? Arguably,the "favela novel" is a literature of violence, to be more precise, it is about the representation of violence. However, while the difference between the two may sometimes betenuous, these novels do not fit the paradigms of a crime novel. Additionally, from the analysis of the construction of the characters Máiquel and Reizinho (O Matador and Inferno), it is indeed possible to interpret a gender bias in Patrícia Melo's texts.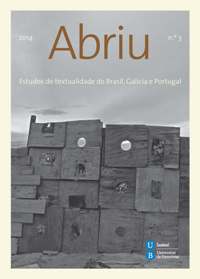 Downloads
How to Cite
Losada Soler, E. (2014). Patrícia Melo. "Favela Novel" and Crime Novel. Genre/Gender. Abriu: Estudos De Textualidade Do Brasil, Galicia E Portugal, (3), 9–27. https://doi.org/10.1344/abriu2014.3.1
License
The Author retains ownership of the copyright of the article, unless the contrary is stated, and all rights not expressly granted in this agreement, including the non-exclusive right to reproduce, distribute, perform, and display the article in print or electronic form, and grants to Abriu: estudos de textualidade do Brasil, Galicia e Portugal the exclusive rights to first publication of the Article. The work will be available under a Creative Commons Attribution-Noncommercial-No Derivative Works license, by which the article must be credited to the Author and the Journal must be credited as first place of publication.