Feminist Narratives and National Literature: Criticism's Amor Fati
Keywords:
nationalism and literature, gender and literature, Galician literary criticism, gender studies, postcolonial studies
Abstract
This article attempts to show that theoretical models that are alternative to the dominant ones are useful for providing committed and thoughtful solutions to two problems: a) the relationship between literature and critics in the Galician cultural field and b) the relationship between the critical narratives built by nationalism and feminism in contemporary Galician literature.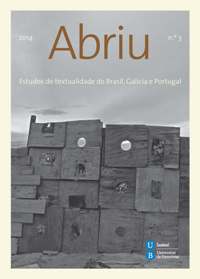 Downloads
How to Cite
Rábade Villar, M. do C. (2014). Feminist Narratives and National Literature: Criticism's Amor Fati. Abriu: Estudos De Textualidade Do Brasil, Galicia E Portugal, (3), 133–145. https://doi.org/10.1344/abriu2014.3.8
License
The Author retains ownership of the copyright of the article, unless the contrary is stated, and all rights not expressly granted in this agreement, including the non-exclusive right to reproduce, distribute, perform, and display the article in print or electronic form, and grants to Abriu: estudos de textualidade do Brasil, Galicia e Portugal the exclusive rights to first publication of the Article. The work will be available under a Creative Commons Attribution-Noncommercial-No Derivative Works license, by which the article must be credited to the Author and the Journal must be credited as first place of publication.