The Book of Disquiet, the aesthetics and materiality of sensations
Keywords:
Fernando Pessoa, Book of Disquiet, sensation, disquiet, writing
Abstract
This paper correlates the aesthetic theorization of sensation with the materiality of sensation in The Book of Disquiet. The different editions of Fernando Pessoa's work have, in the text or fragment, a unity of expression that the publishers put in order following a varietyof criteria. This paper argues that these unities are based on a conceptualization of sensation, such that the identity and the time of the narrative are inscribed according to impressions provoked by the writing.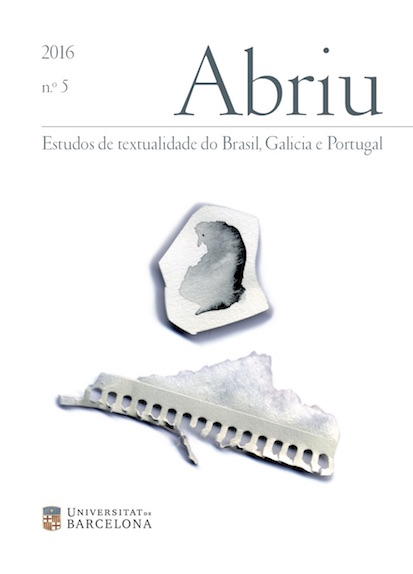 Downloads
How to Cite
Giménez, D. (2016). The Book of Disquiet, the aesthetics and materiality of sensations. Abriu: Estudos De Textualidade Do Brasil, Galicia E Portugal, (5), 51–63. https://doi.org/10.1344/abriu2016.5.4
License
The Author retains ownership of the copyright of the article, unless the contrary is stated, and all rights not expressly granted in this agreement, including the non-exclusive right to reproduce, distribute, perform, and display the article in print or electronic form, and grants to Abriu: estudos de textualidade do Brasil, Galicia e Portugal the exclusive rights to first publication of the Article. The work will be available under a Creative Commons Attribution-Noncommercial-No Derivative Works license, by which the article must be credited to the Author and the Journal must be credited as first place of publication.