Ataque Escampe: thinking about resistance through music and literature
Keywords:
popular music, Ataque Escampe, intertextuality, resistance, subversion
Abstract
Through the analysis of the songs of the band Ataque Escampe this article aims to determine if their musical discourse harbors a political attitude. In this case, the article will explore how the band maintains this critical and resistant character regarding certain sociopolitical conflicts in the Galician context, where two cultures coexist in inequality. Furthermore, it seeks to understand if, within this context, identities are fragmented or in the making, and what kind of social function the songs of the band exert in that hypothetical case.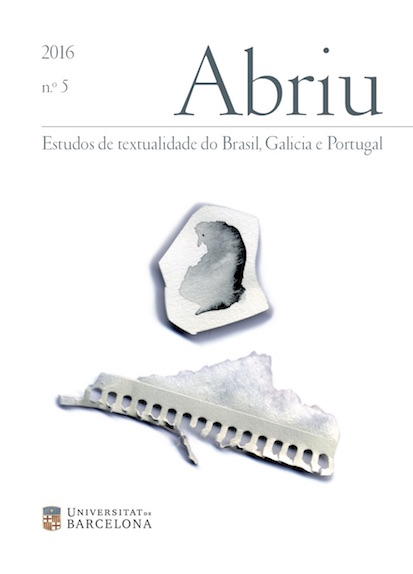 Downloads
How to Cite
Fernández Villamarín, M. (2016). Ataque Escampe: thinking about resistance through music and literature. Abriu: Estudos De Textualidade Do Brasil, Galicia E Portugal, (5), 111–125. https://doi.org/10.1344/abriu2016.5.8
License
The Author retains ownership of the copyright of the article, unless the contrary is stated, and all rights not expressly granted in this agreement, including the non-exclusive right to reproduce, distribute, perform, and display the article in print or electronic form, and grants to Abriu: estudos de textualidade do Brasil, Galicia e Portugal the exclusive rights to first publication of the Article. The work will be available under a Creative Commons Attribution-Noncommercial-No Derivative Works license, by which the article must be credited to the Author and the Journal must be credited as first place of publication.