Between kludges and displacements: signed Marcelo Mirisola
Keywords:
signature, literary field, Marcelo Mirisola
Abstract
This essay aims to trace the construction of the «signature» of Marcelo Mirisola, commenting on some aspects of his fictional repertoire and focusing on the hypothesis that the cynicism attached to the process of construction of this authorial identity is an obstacle to the transformation of his «signature», his name as an author. From Joana a Contragosto onward, the author has been attempting a turning point by metafictionalizing his own condition as a writer in the contemporary literary scene, exposing the paradoxes of the inscription of a mark of authorship. In this sense, then, this essay aims to capture recurring elements in the author's narratives that, on the one hand, by way of their laborious repetition, indicate the consolidation of a work and, on the other hand, when metafictionalized, indicate both the exhaustion and the aporia of a narrative voice already confirmed.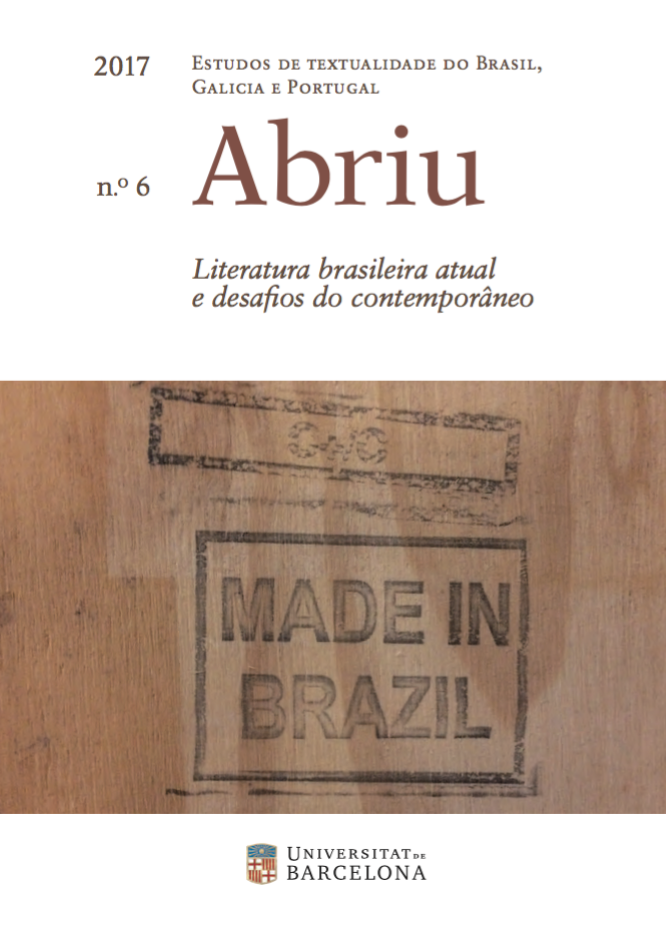 Downloads
How to Cite
Azevedo, L. (2017). Between kludges and displacements: signed Marcelo Mirisola. Abriu: Estudos De Textualidade Do Brasil, Galicia E Portugal, (6), 33–50. https://doi.org/10.1344/abriu2017.6.2
License
The Author retains ownership of the copyright of the article, unless the contrary is stated, and all rights not expressly granted in this agreement, including the non-exclusive right to reproduce, distribute, perform, and display the article in print or electronic form, and grants to Abriu: estudos de textualidade do Brasil, Galicia e Portugal the exclusive rights to first publication of the Article. The work will be available under a Creative Commons Attribution-Noncommercial-No Derivative Works license, by which the article must be credited to the Author and the Journal must be credited as first place of publication.