Geochemistry and Geochronology of the Guajira Eclogites, northern Colombia: evidence of a metamorphosed primitive Cretaceous Caribbean Island-arc
Keywords:
Eclogites, Primitive island-arc, Geochronology, Guajira Peninsula, Colombia, Caribbean
Abstract
The chemical composition of eclogites, found as boulders in a Tertiary conglomerate from the Guajira Peninsula, Colombia suggests that these rocks are mainly metamorphosed basaltic andesites. They are depleted in LILE elements compared to MORB, have a negative Nb-anomaly and flat to enriched REE patterns, suggesting that their protoliths evolved in a subduction related tectonic setting. They show island-arc affinities and are similar to primitive islandarc rocks described in the Caribbean. The geochemical characteristics are comparable to low-grade greenschists from the nearby Etpana Terrane, which are interpreted as part of a Cretaceous intra-oceanic arc. These data support evidence that the eclogites and the Etpana terrane rocks formed from the same volcano-sedimentary sequence. Part of this sequence was accreted onto the margin and another was incorporated into the subduction channel and metamorphosed at eclogite facies conditions. 40Ar-39Ar ages of 79.2±1.1Ma and 82.2±2.5Ma determined on white micas, separated from two eclogite samples, are interpreted to be related to the cooling of the main metamorphic event. The formation of a common volcano-sedimentary protolith and subsequent metamorphism of these units record the ongoing Late Cretaceous continental subduction of the South American margin within the Caribbean intra-oceanic arc subduction zone. This gave way to an arc-continent collision between the Caribbean and the South American plates, where this sequence was exhumed after the Campanian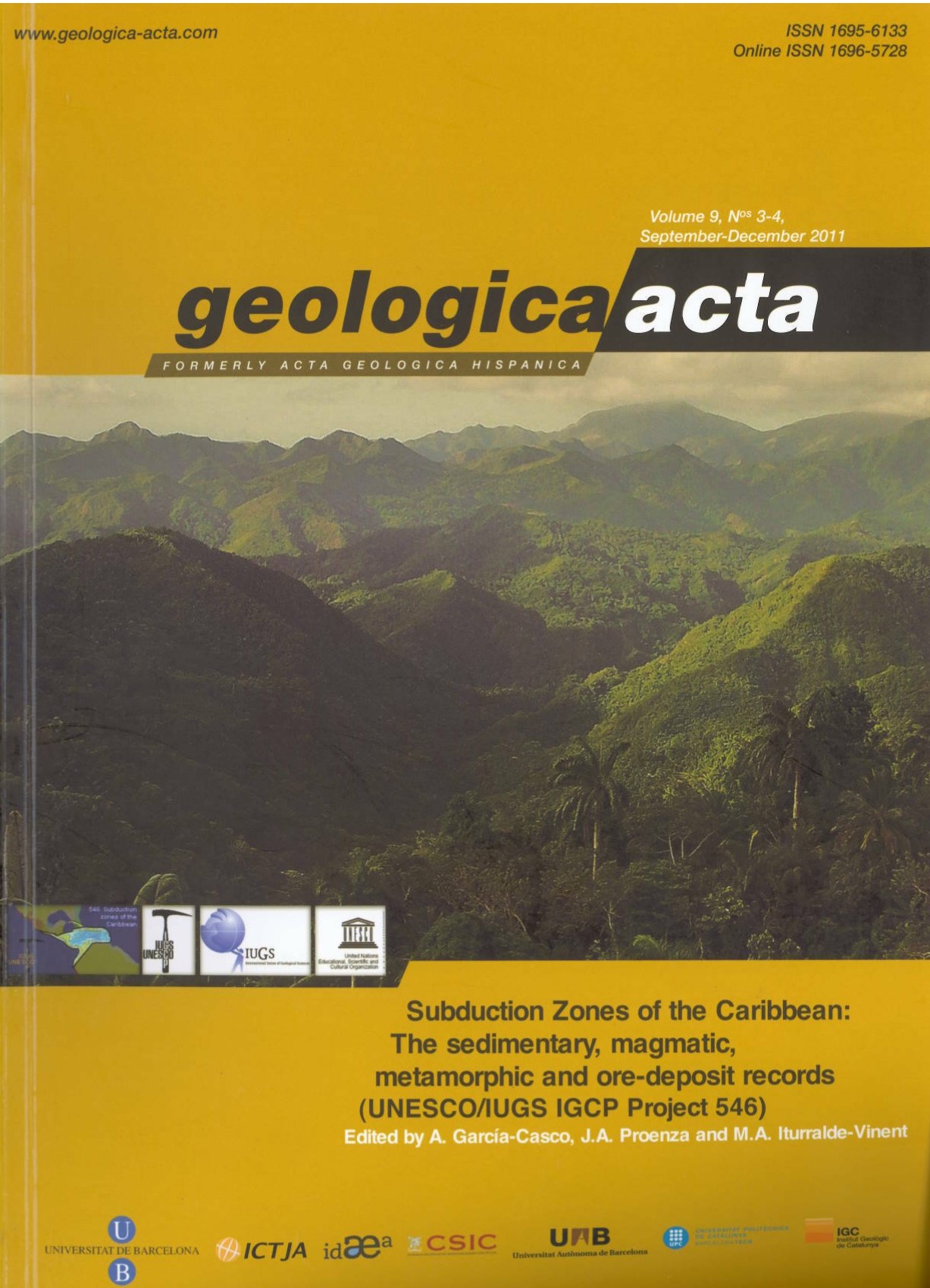 Downloads
License
This work is licensed under a Creative Commons Attribution-ShareAlike 4.0 International License.
Copyright
Geologica Acta is the property of the UB, GEO3BCN, IDAEA and UAB. Geologica Acta must be cited for any partial or full reproduction. Papers are distributed under the Attribution-Share Alike Creative Commons License. This license allows anyone to reproduce and disseminate the content of the journal and even make derivative works crediting authorship and provenance and distributing possible derivative works under the same or an equivalent license.
Author Rights
Authors retain the copyright on their papers and are authorized to post them on their own web pages or institutional repositories. The copyright was retained by the journal from the year 2003 until 2009. In all cases, the complete citation and a link to the Digital Object Identifier (DOI) of the article must be included. 
The authors can use excerpts or reproduce illustrations of their papers in other works without prior permission from Geologica Acta provided the source of the paper including the complete citation is fully acknowledged.