Provenance, tectonic setting and source-area weathering of Mesoproterozoic Kaimur Group, Vindhyan Supergroup, Central India
Abstract
The siliciclastic of the Upper Kaimur Group of the Vindhyan Supergroup in Central India have been geochemically studied in order to understand their provenance, paleoweathering conditions and tectonic conditions. A-CN-K (Al2O3-CaO-K2O) ternary diagram and chemical index of alteration (CIA) values suggest that the granitic source rocks underwent moderate to high degree of chemical weathering under moderate weathering conditions for an extended period of time, or under humid weathering for shorter periods of time. Similar CIA values in all textural types indicate that recycling processes homogenized the shale and sandstone compositions. Various geochemical discriminants and elemental ratios such as K2O/Na2O, Al2O3/TiO2, SiO2/MgO, La/Sc, Th/Sc, Zr/Sc, Th/Cr, [Gd/ Yb]N and pronounced negative Eu anomalies indicate the rocks to be the product of post-Archean, Proterozoic granitic source, with minor granodioritic input and substantial sediment recycling. The geochemical signatures corroborate their deposition in a subsiding foreland basin over Bundelkhand craton with provenance from south, south westerly Chotanagpur granite gneiss.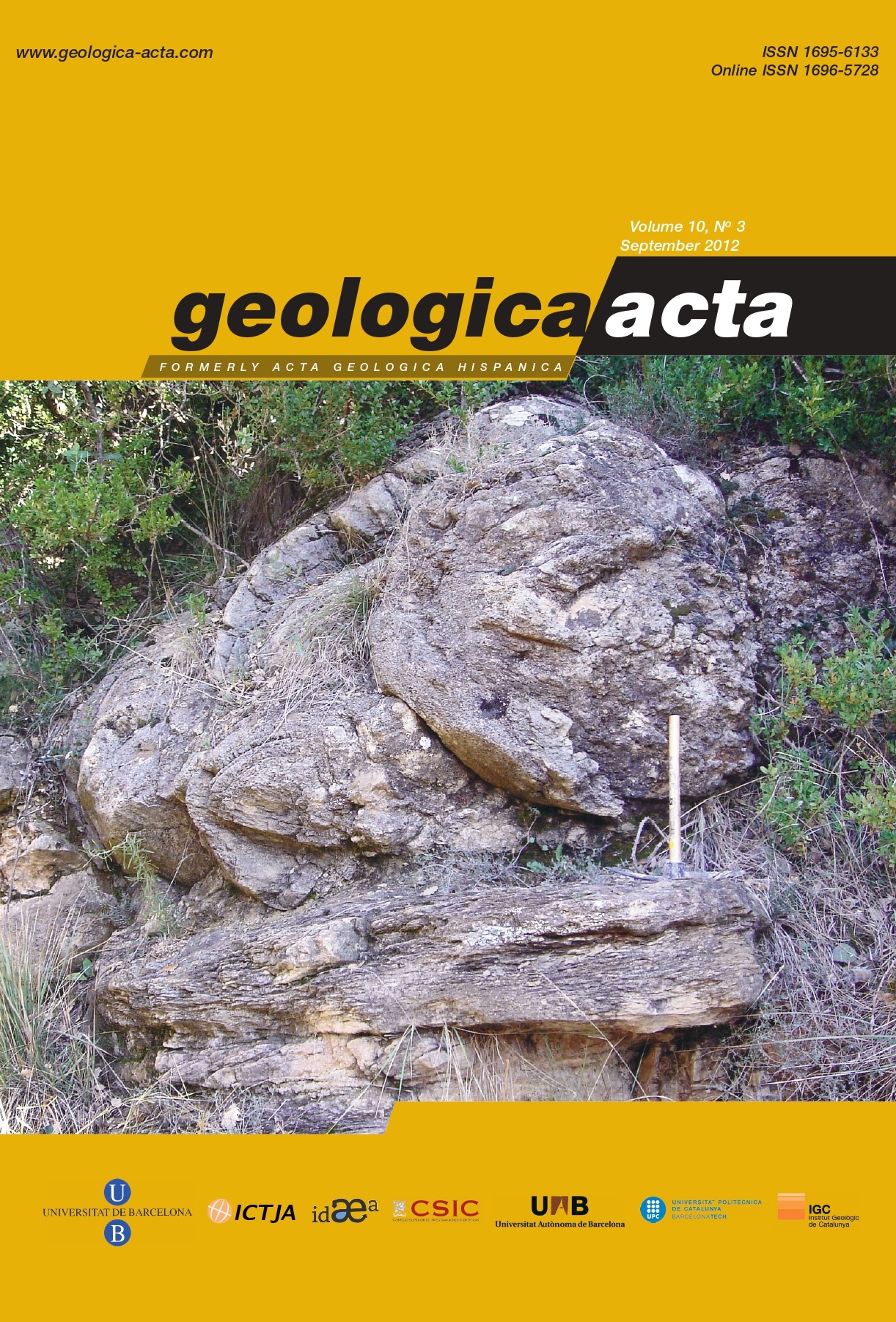 Downloads
License
Copyright
The commercial rights of the printed and online versions of Geologica Acta are property of the UB, ICTJA, IDAEA and UAB, and Geologica Acta must be cited for any partial or full reproduction.
The opinions and conclusions stated in each article are the exclusive responsability of the authors and do not necessarily coincide with those of the above mentioned institutions UB, ICTJA, IDAEA and UAB.
Author Rights
Authors retain the copyright on their papers (accepted manuscript, uncorrected proof and published paper) and are authorized to post them on their own Web page or their institutional repositories. In all cases, the complete citation and a link to the Digital Object Identifier (DOI) of the article must be included.
The authors can use excerpts or reproduce illustrations of their papers in other works without prior permission of Geologica Acta provided the source of the paper including the complete citation is fully acknowledged.
Papers are distributed under the Attribution-Share Alike Creative Commons License. This license allows others to alter, remix or build upon a paper and the resulting work may be distributed under the same or similar license to this one.