Spinel group minerals in metamorphosed ultramafic rocks from Río de Las Tunas belt, Central Andes, Argentina
Keywords:
Spinel group minerals, Metaperidotites, Alpine type belts, Central Andes
Abstract
In the Río de Las Tunas belt, Central Andes of Argentina, spinel group minerals occur in metaperidotites and in reaction zones developed at the boundary between metaperidotite bodies and their country-rocks. They comprise two types: i) Reddish-brown crystals with compositional zonation characterized by a ferritchromite core surrounded by an inner rim of Cr-magnetite and an outer rim of almost pure magnetite. ii) Green crystals chemically homogeneous with spinel (s.s.) and/or pleonaste compositions. The mineral paragenesis Fo+Srp+Cln+Tr+Fe-Chr and Fo+Cln+Tr+Tlc±Ath+Fe-Chr observed in the samples indicate lower and middle grade amphibolite facies metamorphic conditions. Nonetheless, the paragenesis (green)Spl+En+Fo±Di indicates that granulite facies conditions were also reached at a few localities. Cr-magnetite and magnetite rims in zoned reddish-brown crystals and magnetite rims around green-spinel/pleonaste grains are attributed to a later serpentinization process during retrograde metamorphism. The chemical composition of spinel group minerals in the ultramafic reaction zones is determined by the mineral zone where they crystallize. Green pleonaste occurs in the chlorite zone, ferritchromite predominates in the amphibole zone, whereas Crmagnetite and magnetite are more common in the carbonate zone. The mineral paragenesis of the Río de Las Tunas metaperidotites together with the chemical characteristics of the spinel group minerals support a clockwise P-T path evolution for the ultramafic protoliths during the Paleozoic regional metamorphic cycle of this area.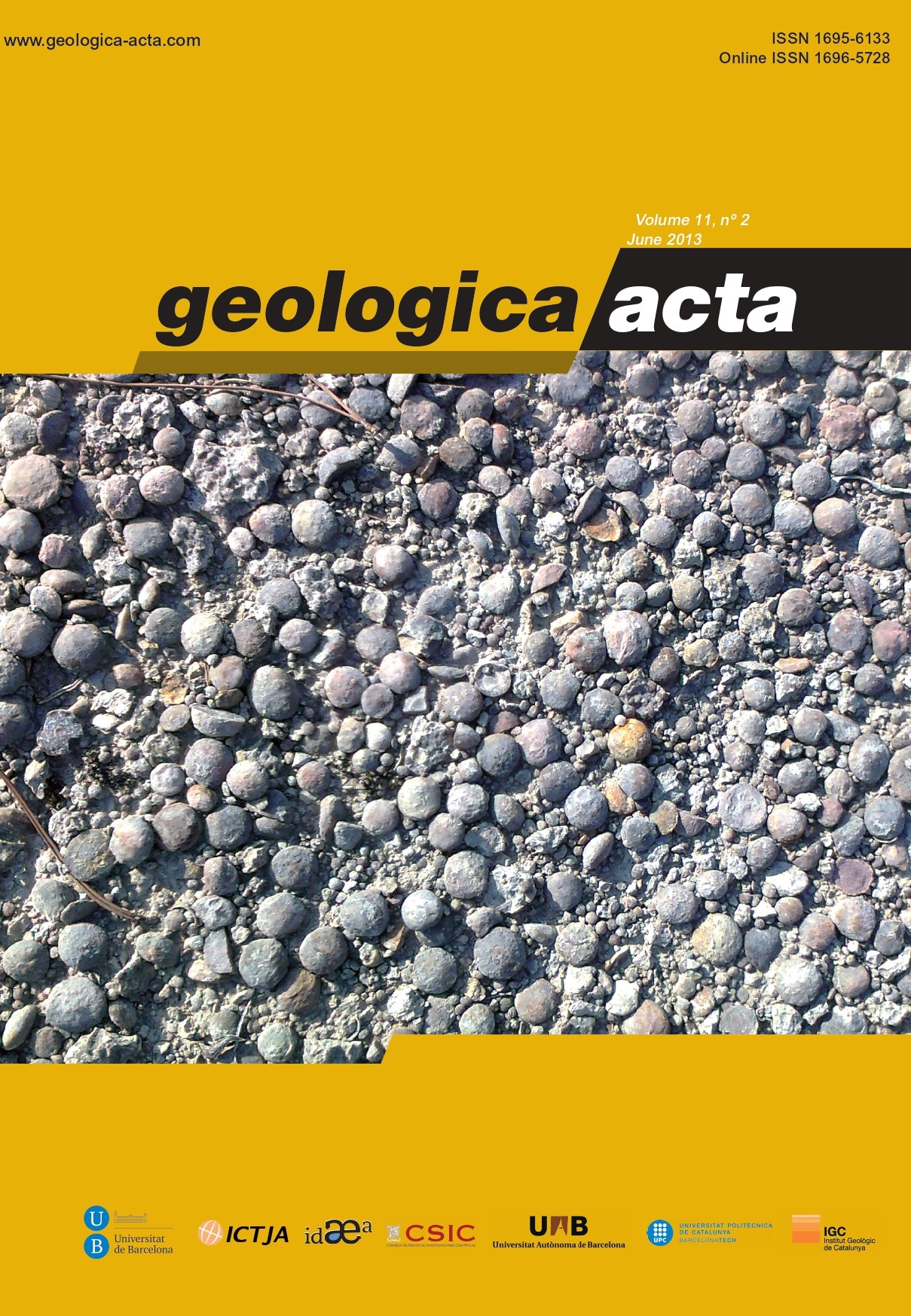 Downloads
License
Copyright (c) 2023 M.F. GARGIULO, E.A. BJERG, A. MOGESSIE
This work is licensed under a Creative Commons Attribution-ShareAlike 4.0 International License.
Copyright
Geologica Acta is the property of the UB, GEO3BCN, IDAEA and UAB. Geologica Acta must be cited for any partial or full reproduction. Papers are distributed under the Attribution-Share Alike Creative Commons License. This license allows anyone to reproduce and disseminate the content of the journal and even make derivative works crediting authorship and provenance and distributing possible derivative works under the same or an equivalent license.
Author Rights
Authors retain the copyright on their papers and are authorized to post them on their own web pages or institutional repositories. The copyright was retained by the journal from the year 2003 until 2009. In all cases, the complete citation and a link to the Digital Object Identifier (DOI) of the article must be included. 
The authors can use excerpts or reproduce illustrations of their papers in other works without prior permission from Geologica Acta provided the source of the paper including the complete citation is fully acknowledged.