Post-depositional processes of elemental enrichment inside dark nodular masses of an ancient aeolian dune from A Coruña, Northwest Spain
Keywords:
Dune, Manganese, Oxidation, Trace elements, Weathering
Abstract
This paper focuses on a residual ancient aeolian climbing dune from Punta Penaboa (A Coruña, Northwest Spain) showing evidence of post-depositional weathering, particularly the presence of dark brown nodular masses. The partitioning of trace elements between nodular masses and host sand during post-depositional weathering of the dune is investigated in this work, with the main objective of studying the elemental enrichment patterns in the dark masses. Data of the concentrations of chemical elements were obtained by instrumental neutron activation analysis (INAA) and complemented by mineralogical and microchemical studies, using X-ray powder diffraction (XRD) and scanning electron microscopy (SEM) / energy dispersive X-ray spectrometry (EDS). The dune was dated by optically stimulated luminescence (OSL) , yielding an age of 300ka B.P.. The dark nodular masses preserved the dune sand structure, without defined concentric layers, suggesting an early stage of formation. They consist mainly of quartz grains cemented by clay materials enriched in the majority of the elements studied, especially in Mn, Co, Ba, Sb, Ce, Tb, Th, As, Zr and Hf. The post-depositional transformations of the dune were most likely influenced by migration of chemical compounds from the surrounding slope deposits and granitic rocks, as well as microbial activity that promoted metals concentration in the solutions percolating through the pore network of the dune. Seasonal changes in the redox potential were required to produce the accumulation of Mn and other trace elements in the dune pore network and to promote the fractionation between Ce4+ and trivalent rare earth elements that was observed in the geochemical patterns.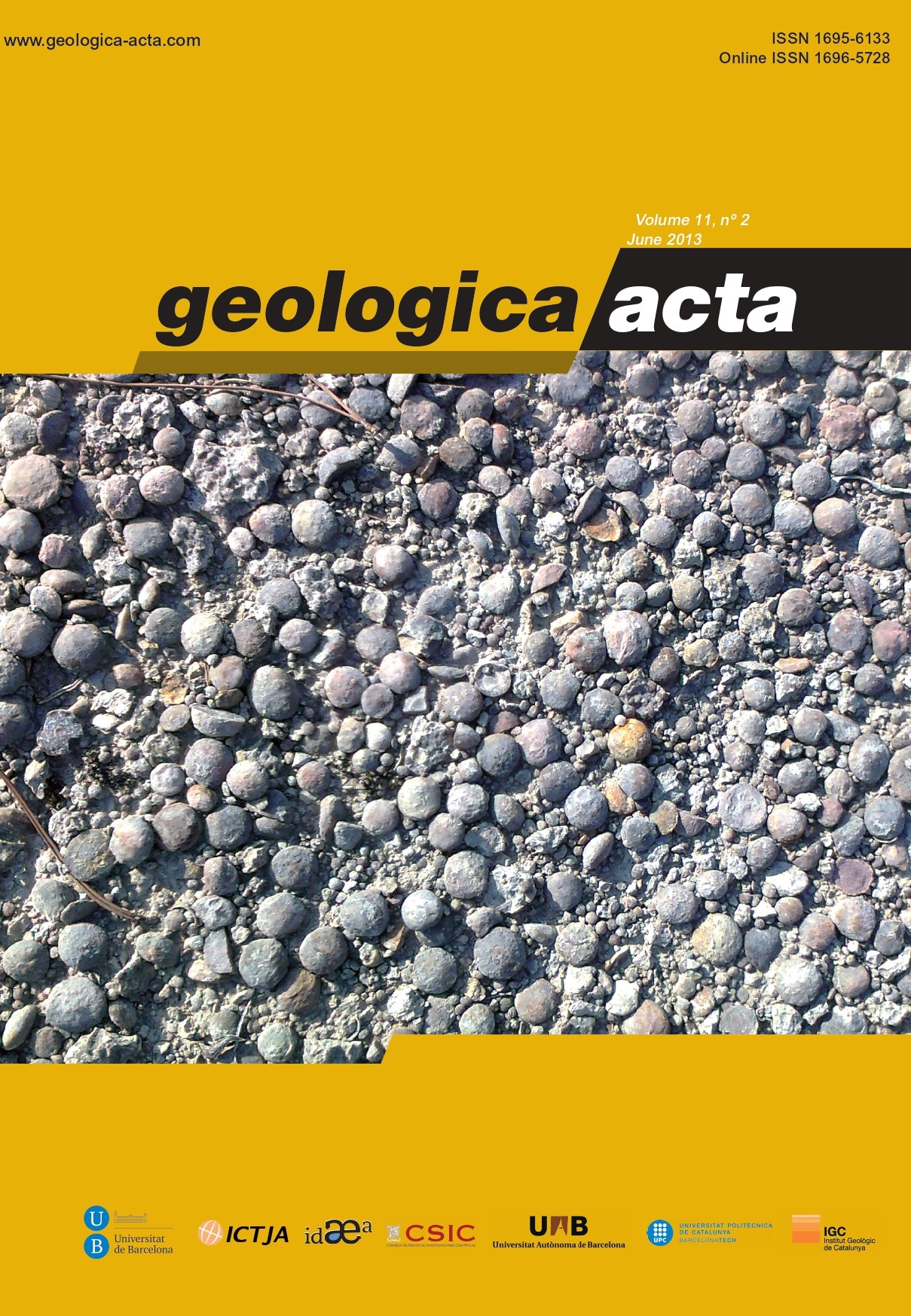 Downloads
License
Copyright (c) 2023 M.J. TRINDADE, M.I. PRUDÊNCIO, J.S. SÁNCHEZ, J.R. VIDAL ROMANÍ, T. FERRAZ, D. FERNÁNDEZ MOSQUERA, M.I. DIAS
This work is licensed under a Creative Commons Attribution-ShareAlike 4.0 International License.
Copyright
Geologica Acta is the property of the UB, GEO3BCN, IDAEA and UAB. Geologica Acta must be cited for any partial or full reproduction. Papers are distributed under the Attribution-Share Alike Creative Commons License. This license allows anyone to reproduce and disseminate the content of the journal and even make derivative works crediting authorship and provenance and distributing possible derivative works under the same or an equivalent license.
Author Rights
Authors retain the copyright on their papers and are authorized to post them on their own web pages or institutional repositories. The copyright was retained by the journal from the year 2003 until 2009. In all cases, the complete citation and a link to the Digital Object Identifier (DOI) of the article must be included. 
The authors can use excerpts or reproduce illustrations of their papers in other works without prior permission from Geologica Acta provided the source of the paper including the complete citation is fully acknowledged.