Evidence of extensional metamorphism associated to Cretaceous rifting of the North-Maghrebian passive margin: The Tanger-Ketama Unit (External Rif, northern Morocco)
Keywords:
Low-grade extensional metamorphism, Illite crystallinity, Kübler index, Tanger-Ketama unit, External Rif, Northern Morocco
Abstract
The distribution pattern of diagenetic conditions to very low-grade metamorphism in the eastern Rif has been determined based on a study of clay-mineral assemblages and illite crystallinity of Mesozoic metapelites. Low-grade conditions were reached in marbles and also in the Beni-Malek serpentinites, as suggested by the mineral assemblages present in the marbles and antigorite growth in serpentinites. Previous thermochronological data are based on i) 40Ar/39Ar in amphiboles from greenschists, ii) K/Ar in white micas from metasandstones, and iii) fission tracks in apatites and zircons from metasandstones. These data indicate a Late Cretaceous age (80 Ma) for the very low- to low-grade metamorphism. We propose an evolutionary model for the Tanger-Ketama Unit consisting of a Lower Cretaceous sequence deposited in half-graben basins over an exhumed serpentinized mantle in a setting similar to the West Galician non-volcanic margin. The sediments underwent diagenesis to very low-grade metamorphism under relatively high heat flow in this extensional setting. Miocene contractional deformation of the Tanger-Ketama Unit resulted in a penetrative crenulation cleavage associated to asymmetric inclined folds. This crenulation developed, mostly by solution-transfer processes, without significant mineral growth. Miocene metamorphism reset the apatite fission-tracks, but metamorphic conditions were not high enough to reset either the K/Ar ages or the zircon fission tracks.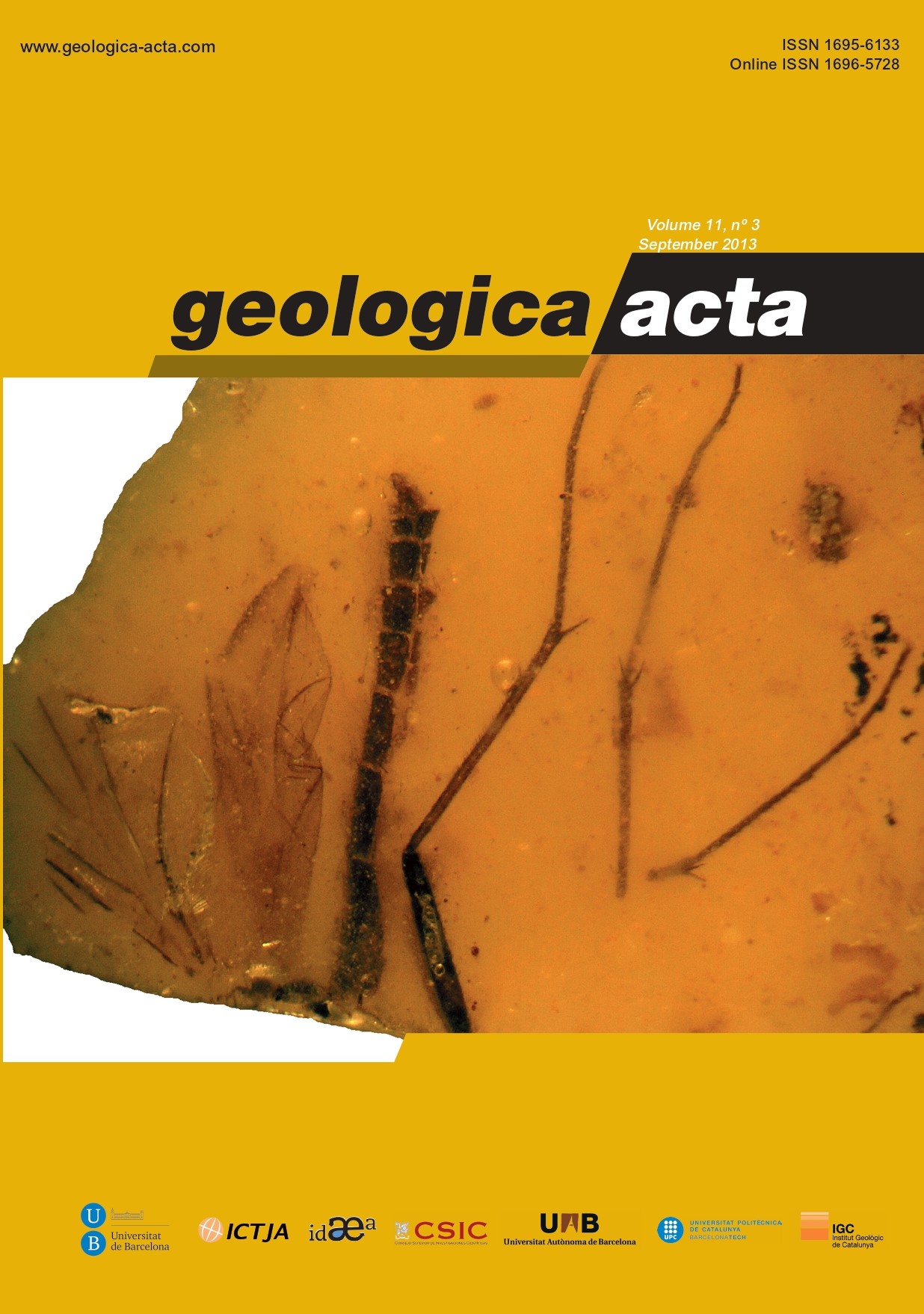 Downloads
License
Copyright
The commercial rights of the printed and online versions of Geologica Acta are property of the UB, ICTJA, IDAEA and UAB, and Geologica Acta must be cited for any partial or full reproduction.
The opinions and conclusions stated in each article are the exclusive responsability of the authors and do not necessarily coincide with those of the above mentioned institutions UB, ICTJA, IDAEA and UAB.
Author Rights
Authors retain the copyright on their papers (accepted manuscript, uncorrected proof and published paper) and are authorized to post them on their own Web page or their institutional repositories. In all cases, the complete citation and a link to the Digital Object Identifier (DOI) of the article must be included.
The authors can use excerpts or reproduce illustrations of their papers in other works without prior permission of Geologica Acta provided the source of the paper including the complete citation is fully acknowledged.
Papers are distributed under the Attribution-Share Alike Creative Commons License. This license allows others to alter, remix or build upon a paper and the resulting work may be distributed under the same or similar license to this one.