Physico-chemical analysis of Albian (Lower Cretaceous) amber from San Just (Spain): implications for palaeoenvironmental and palaeoecological studies
Keywords:
Amber, C-isotopes, Thermogravimetric analyses, Infra-red spectroscopy, Cretaceous.
Abstract
Amber from a Lower Cretaceous outcrop at San Just, located in the Eastern Iberian Peninsula (Escucha Formation, Maestrat Basin), was investigated to evaluate its physico-chemical properties. Thermogravimetric (TG) and Differential Thermogravimetric (DTG) analyses, infra-red spectroscopy, elemental and C-isotope analyses were performed. Physico-chemical differences between the internal light nuclei and the peripheral darker portions of San Just amber can be attributed to processes of diagenetic alteration that preferentially took place in the external amber border colonized by microorganisms (fungi or bacteria) when the resin was still liquid or slightly polymerized. δ13Camber values of different pieces of the same sample, from the nucleus to the external part, are remarkably homogeneous, as are δ13Camber values of the darker peripheral portions and lighter inner parts of the same samples. Hence, neither invasive microorganisms, nor diagenetic alteration, changed the bulk isotopic composition of the amber. δ13C values of different amber samples range from -21.1‰ to -24‰, as expected for C3 plant-derived material. C-isotope analysis, coupled to palaeobotanical, TG and DTG data and infra-red spectra, suggests that San Just amber was exuded by only one conifer species, belonging to either the Cheirolepidiaceae or Aracauriaceae, coniferous families probably living under stable palaeoenvironmental and palaeoecological conditions.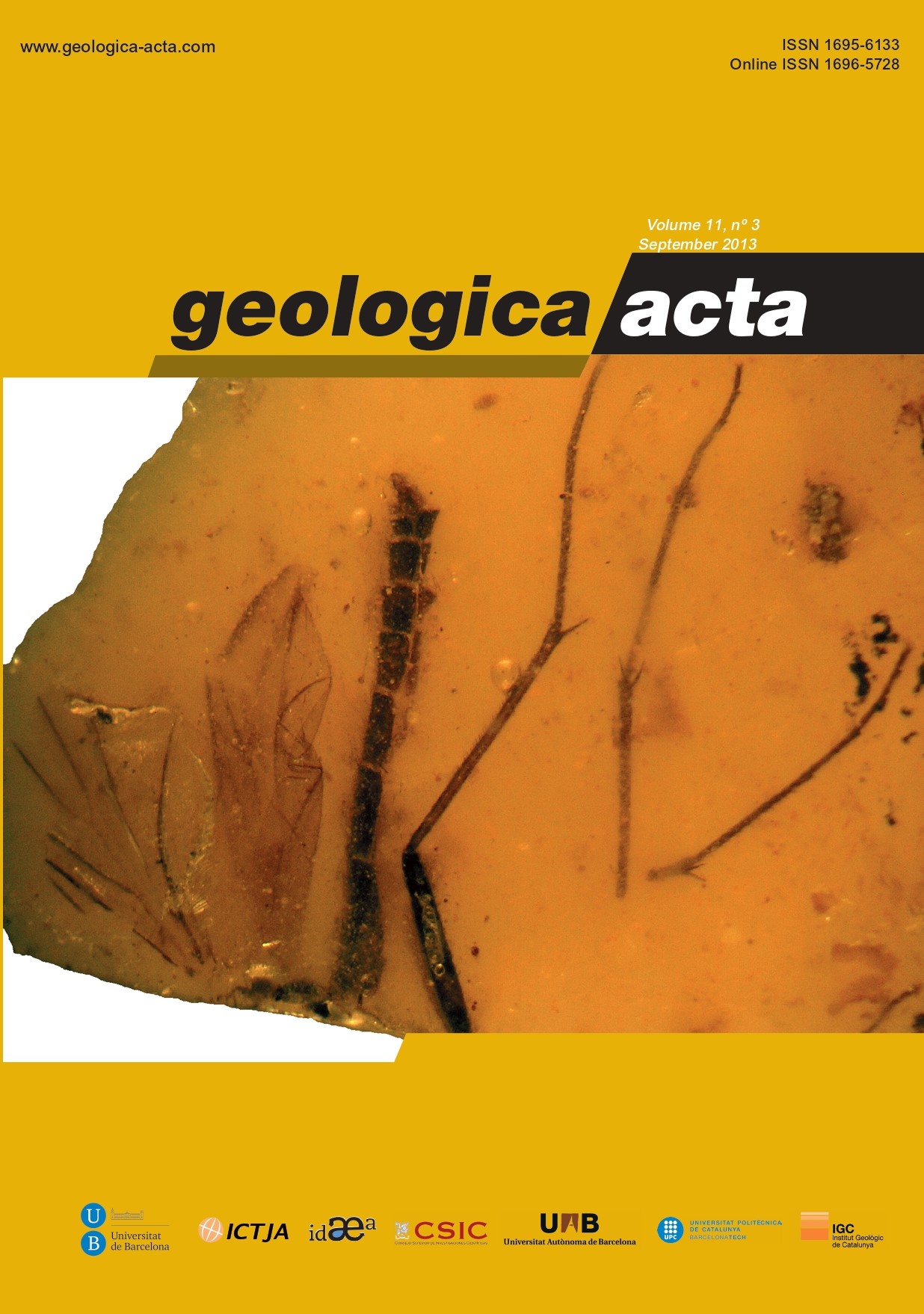 Downloads
License
Copyright
The commercial rights of the printed and online versions of Geologica Acta are property of the UB, ICTJA, IDAEA and UAB, and Geologica Acta must be cited for any partial or full reproduction.
The opinions and conclusions stated in each article are the exclusive responsability of the authors and do not necessarily coincide with those of the above mentioned institutions UB, ICTJA, IDAEA and UAB.
Author Rights
Authors retain the copyright on their papers (accepted manuscript, uncorrected proof and published paper) and are authorized to post them on their own Web page or their institutional repositories. In all cases, the complete citation and a link to the Digital Object Identifier (DOI) of the article must be included.
The authors can use excerpts or reproduce illustrations of their papers in other works without prior permission of Geologica Acta provided the source of the paper including the complete citation is fully acknowledged.
Papers are distributed under the Attribution-Share Alike Creative Commons License. This license allows others to alter, remix or build upon a paper and the resulting work may be distributed under the same or similar license to this one.