A potential record of a procolophonid parareptile from the Triassic of the Iberian Peninsula
Keywords:
Procolophonidae, Parareptilia, Triassic, Iberian Peninsula, Anisian
Abstract
Cranial and postcranial remains from the Middle Triassic of the Northeastern part of the Iberian Peninsula are reported and tentatively assigned to Procolophonidae. The finding is the first occurrence of a procolophonid parareptile in the Iberian Peninsula, representing the southernmost record of the group in Europe. The fossilbearing locality is dated as Anisian (Middle Triassic) and includes three tooth-bearing bones, two cranial bone fragments and one interclavicle. The mandible described herein includes nine teeth. No cusps or complete crowns are preserved, but sections of the teeth are available. The three anterior teeth progressively decrease in size from front to back, whereas the teeth from the fourth to the eighth position present the opposite trend. The last tooth (the ninth) is clearly reduced in comparison to the previous ones. A close relationship with Anomoiodon-Kapes is suggested, however, more material is required in order to assess the exact taxonomical determination of the Iberian remains. This finding is expected to shed some light on the geographical distribution of procolophonines.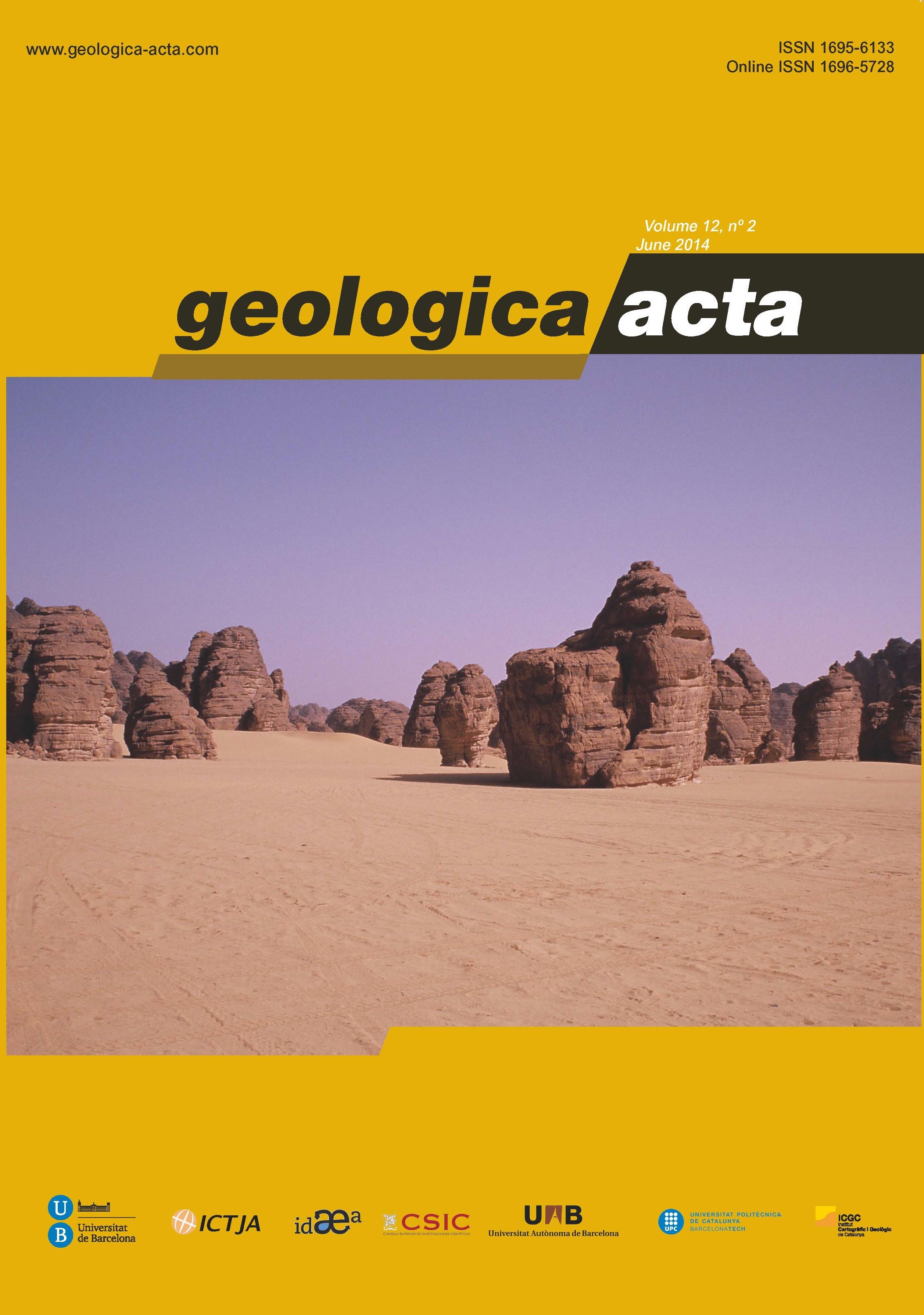 Downloads
License
Copyright
Geologica Acta is the property of the UB, GEO3BCN, IDAEA and UAB. Geologica Acta must be cited for any partial or full reproduction. Papers are distributed under the Attribution-Share Alike Creative Commons License. This license allows anyone to reproduce and disseminate the content of the journal and even make derivative works crediting authorship and provenance and distributing possible derivative works under the same license or an equivalent license.
Author Rights
Authors retain the copyright on their papers and are authorized to post them on their own web pages or institutional repositories. In all cases, the complete citation and a link to the Digital Object Identifier (DOI) of the article must be included.
The authors can use excerpts or reproduce illustrations of their papers in other works without prior permission from Geologica Acta provided the source of the paper including the complete citation is fully acknowledged.